Opinion
Michael John Sutherland 1966-2007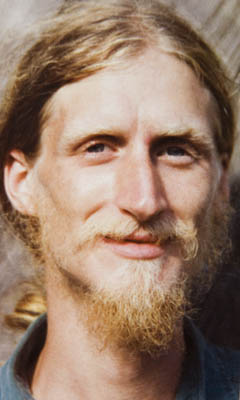 My friend Michael Sutherland danced into my life not long out of Santa Barbara High School, juggling devil sticks and riding a unicycle. He lived on Arbol Verde Street in Carpinteria with his folks and four brothers-Paul, Ben, Abe, and Sam. I was going to UCSB then, and he to Westmont. We rode mountain bikes, danced in the sun at concerts in Anisq'Oyo' Park and the Santa Barbara Bowl, and watched many a sunset on the Carpinteria bluffs. The next 20 years waltzed by, deepening our friendship, until he danced out on August 26, at age 41, in a whitewater rafting accident not far from his home in Kunming, China. Three people perished, including Mike and his girlfriend, Li Limei.
"Death 'suits' no one," Mike's friend Rob Clarke wrote. "Yet, for Mike to pass on while pushing himself beyond his limits in an impassioned effort to save his beloved Li Limei is certainly in keeping both with his gusto for life's thrills and his deep commitment to others."
"He was the outdoors type and had an adventuresome spirit," is how his father, James Sutherland, puts it, summing up his son's life as an environmentalist, writer, photographer, hemp-industry leader and forward-thinker. Mike was a lifelong traveler, in the family mold. He participated in Semester at Sea, a university ship that circumnavigated the globe, and he just kept going. A pro mountain biker and a photographer, he'd biked through isolated parts of China, India, Tibet, Nepal, Pakistan, and other countries.
He met and stayed with an ethnic Chinese tribe that used the hemp plant for food, textiles, rope, and baskets; they respected his insatiable curiosity and welcomed him into their traditional culture. I think it was then that his vision for hemp and what it could do for the world came alive. I remember speaking with him about the idea of hemp paper, and the devastation caused by clear-cutting old-growth forests for paper. But after studying it, he thought he could make a bigger difference with hemp cloth, with cleaner manufacturing processes. So he moved to Kunming, China, where he led bike tours, consulted for the hemp industry in Yunnan, and then set up a fantastic clothing business there, People's Hemp.
My husband and I started a media agency in 1991. Mike began covering adventure/travel events for our agency and other publications. A China correspondent for globally-distributed Colors magazine, Mike became one of the first foreigners in decades to reside in Kunming, and was a pioneer in mixing the growing Western expatriate community with the local Chinese population, hosting bike clinics, rides, races, and tours. One of his early community-minded projects was the Fat Tire Bike Club, a sports club promoting off-road cycling.
Mike bet his future on hemp (following the dream of his grandfather, a paper engineer, who had a vision of paper from non-wood sources), and he spent more than a decade building his business from simply twine to a full line of hemp clothing complete with an online catalog, U.S. order fulfillment and warehouse, and international sales. He became a board member for the Hemp Industries Association (HIA), and spoke at international conferences.
In June, he was interviewed by Alternative Consumer, a "bright green blog" that promotes sustainability. Mike's contribution and enduring vision for the world are best expressed in his own words:
The hemp industry will continue to grow at an astounding rate for many years to come, just as it has in the past decade or so. There is plenty of room for growth, and I see no reason that hemp will not surpass, and eventually dwarf, King Cotton, considering hemp's environmentally friendly nature, superior qualities, and much broader range of uses. While cotton is measured in millions of tons, hemp is still measured in tons, or at most thousands of tons. You will also see incredible new products, such as biodegradable agricultural films, which will help dramatically expand organic food production, and keep tons of plastic out of our croplands. There will be more and more hemp building products, from wood-like furniture, insulation and structural components to entire buildings. We'll see more hemp in aircraft and automobile interiors, where hemp competes favorably for cost, weight, safety, and environmental impact.
I loved him for 20 years of regular visits-always bearing gifts, a goofy sense of humor, and a contagious laugh. For me, he was my sweet, skinny, blond brother, and an extra uncle to my children. I miss his laughter most, and our long rambling conversations. All I ever wanted was for him to be cherished and appreciated for the amazing man that he was, and he had that, at last.
Michael was one of the bravest people I ever knew, and not just for giving his life to save his love. He was never afraid to follow his biggest dreams. The environmental legacy he left, as the man who opened China to the Western hemp industry, will continue to blossom. May his vision continue to grow larger and more wonderful than even he imagined.
Mike's brothers held a memorial service in Kunming, and another was held in Black Mountain, North Carolina, where his mother and stepfather (Bronte Sutherland Lamm and Ray Lamm) live, near his brother Sam. Another-to be held on December 29-is being planned for the Santa Barbara community, where Michael studied and lived on a part-time basis for the last two decades (to attend this memorial, please contact nancy@mercurypress.com, and for more on Mike, see peopleshemp.com). His father, Jim Sutherland, lives in Santa Barbara, as does brother Paul. Abe lives in Washington, D.C. Ben lives in Treviso, Italy, with Susanna Bonomo and their daughter Skye.