Books
Willard Thompson's New Book, Dream Helper: A Novel of Early California
Fact and Fiction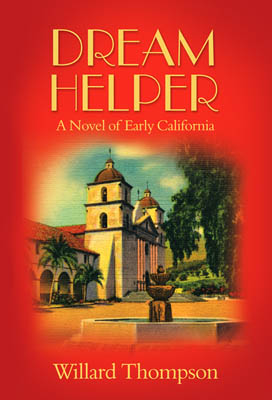 Willard Thompson, author of Dream Helper, says it's "really a very simple story." In a sense, that's true; the action moves right along and adheres very faithfully to the real history of the period from 1786 to the 1820s. However, the theme underlying this adventurous tale is more complex: the culture clash between Spanish soldiers, Franciscan priests, and the native Chumash Indians.
Cayatu, a young Chumash girl, is the heroine of this story in every sense of the word. Not only is she the protagonist, but she does what every heroine should: She takes matters into her own hands. An outcast from her own native village because of her refusal to marry a man chosen for her by her brother-in-law, she turns to the Franciscans for shelter. Throughout the course of years, she discovers truths about herself and about her future that are impossible to ignore; in short, she grows up.
Thompson was inspired to tell this story through Cayatu's eyes because of documents he found while researching Santa Barbara history. They mentioned a woman of that name who was one of the first Chumash to be baptized by the Franciscans. The author said he "began imagining why [the Chumash] would have chosen to leave their villages and go to the mission," and out of this thought process the novel grew.
This mixture of historical setting and fictional narrative makes Dream Helper the vivid story that it is. Thompson's goal was "never [to let] the history get in the way of a good story," and he has accomplished that with style. Historical novelists from Alexandre Dumas to Colleen McCullough have struggled with this same conundrum of how to mix fact with fancy, and Thompson has solved it as well as any.
If Thompson wanted to ensure that the facts wouldn't interfere with the compelling qualities of the fiction, it's clear that he intended the book to stand as a historical account as well. As a book club read for Santa Barbarans it might be a great pick; it's easy for those who know the city to visualize the lay of the land between the Presidio and the Mission, where much of the action takes place. It's also fun to imagine what it might have looked like before the city grew up around those two landmarks, and Thompson has rendered the landscape well.
There's one caveat, however, for readers who want to delve into this fictionalized account of early California history. Shelly Lowenkopf, who is quoted in the back cover text, suggests the book for "young readers," but some portions of the book might be described as adult in content. One scene in particular, in which a Spanish soldier commits a brutal rape, and several others with fairly graphic sex, would be unsuitable for young children. Although these episodes work to advance the narrative, they're certainly spicier than what you'd find in a typical history book.
That being said, the characters in Dream Helper are memorable, the action is intense, and the poignant portrait of a culture's last struggles for survival is worth the read. The author likes his setting and his characters too much to stop now; a sequel set between 1830 and 1846, Delfina's Gold, will be available soon. "It is a period of conflict and intrigue," Thompson said. "Against that, I want to tell another story about believable characters with strong goals and real emotions."
That, after all, is the purpose of a historical novel, and Thompson's next effort will likely be as enjoyable as his first.
4•1•1
Willard Thompson will read and sign copies of Dream Helper on Sunday, December 9, from 3-4 p.m. at Villa Santa Barbara (227 E. Anapamu St.).