Living
Rainy Day Makes Mission Creek Flow
Photos and Video of Mission Creek Pumping Near Oak Park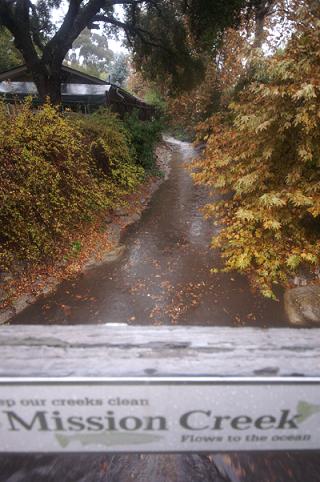 For the first time this winter, Santa Barbara endured an entire day filled with steady rain. It began in the morning as people filed in for work and was still falling at the posting of this article around 5:30 p.m., with sporadically heavy downpours still possible through the evening.
For the most part, the rain was accepted with open, drenched arms, as people across California remain concerned – in some cases, convinced – that we're entering a drought cycle. Certainly, today's short rainstorm, which began with weak showers yesterday and may continue with as much into tomorrow, will not drown drought concerns whatsoever. But the rain did make for some forgotten scenes in Santa Barbara of dads walking their daughters in galoshes and of Mission Creek reaching a steady flow. The accompanying video and photographs of Mission Creek were shot around the Tallant Avenue bridge adjacent to Oak Park.
The National Weather Service reported that, as of 4:30 p.m., some locations had received more than four inches, with more on the way, and most places were hit with at least one inch of much needed soak. Warnings were issued about localized flooding in low-lying areas and an urban stream advisory was going on until 6 p.m. on Tuesday night. In the Santa Barbara Channel, a small craft advisory remains in effect.
But the real concerns are the flash flood zones that may occur in regions affected by the ferocious Zaca Fire, which removed ground cover and loosened soil across the backcountry, from the Santa Ynez Valley all the way to Cuyama. The effects of the storm in those areas most likely won't be known for some time, though heavy erosion is likely, as some of those mountain areas were getting much more rain than the coast. For a thorough investigation of that fire's aftermath, see this report by Ray Ford, published in an October issue of The Independent.
Further inland, the snow level is dropping to about 6,500 feet, which means that the tallest peaks in the Los Padres National Forest may get a frosting of snow. And that's also good news for skiers and snowboarders, as the storm is expected to continue dumping some fluffy white stuff on the Sierras.
There is only a 20 percent chance of more rain on Wednesday morning, and then skies are expected to mostly clear up. Rain may also fall on Thursday, which has a 30 percent chance of showers at the time of this posting.
For more information, go to the National Weather Service website here.