Coal Oil Point Methane Mystery Solved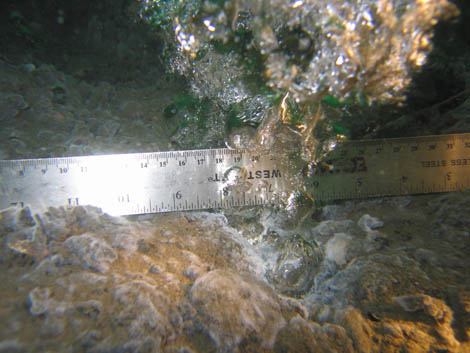 About half of the methane gas bubbles seeping from the ocean floor dissolve harmlessly into the ocean, UCSB researchers studying Coal Oil Point's giant methane plumes announced on Dec. 20. Only those methane bubbles that rise all the way to the surface release the potent greenhouse gas into the atmosphere, but almost all of the rest are oxidized by microbial activity after being carried away by ocean currents.
Seeps from fissures at Coal Oil Point, along the northern margin of the Santa Barbara Channel, emit about 2 million cubic feet a day according to the research team headed by David Valentine, associate professor of Earth Science, and Susan Mau, the study's lead author, a postdoctoral fellow in Valentine's lab. About 100 barrels of oil daily also ooze from the same area. The team tracked the Coal Oil point methane plume down-current over a 280 square kilometer area. The team also discovered that more wind releases more methane into the atmosphere. Their results are to be published as a cover story in the journal Geophysical Research Letters.