Film & TV
Walk Hard: The Dewey Cox Story
John C. Reilly, Jenna Fischer, and Kristen Wiig star in a film written by Judd Apatow and Jake Kasdan and directed by Jake Kasdan.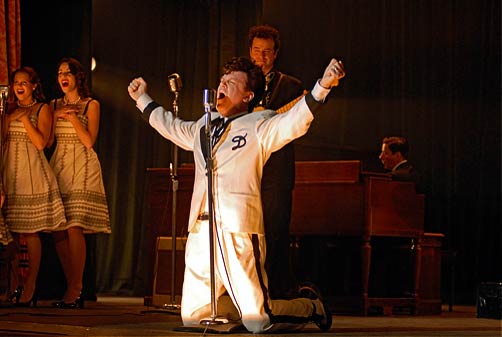 Before he became the next Woody Allen, Judd Apatow was a writer and producer of such un-ennobling projects as Talledega Nights: The Ballad of Ricky Bobby, a film that Walk Hard unfortunately recalls. This flick will blows no one away with its scattershot satirical take on films that cry out for fiercer retribution. Combining elements of bland music biopics like Ray, Walk the Line, and some obscure references to the televised biographies of Brian Wilson and the Beatles, Walk Hard attacks with a kitten claw. It's a comedy of ideas mashed up with a lot of sex, drug, and rock 'n' roll indulgences – something which should have propelled the film for its 90-minute runtime.
A few of the scenes in Walk Hard are very funny, though. Besides the lumpen pleasures of John C. Reilly as Dewey Cox – a name good enough for even Dr. Strangelove – and Jenna Fischer as his frustrating, turned-on wife, Darlene, there is a parade of happy cameos, like a mumbling, karate-chopping Jack White as Elvis and Paul Rudd's brilliant turn as John Lennon. Meanwhile, the drug jokes offer both comedic hits and misses.
But it's certainly not going to usurp the role of This is Spinal Tap for either insight or memorability. The running gags flop and the satiric references aren't clear enough or consistently funny. It's too bad though, because the musician biopics really are becoming quite insufferable. Except for the ridiculously well-wrought songs, Walk Hard doesn't quite stand up long enough to get the dirty job done.
For showtimes, check the Independent's movie listings, here.