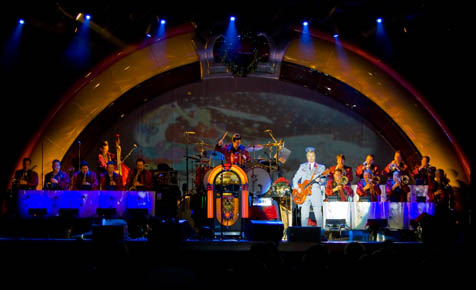 This summer at the Santa Barbara Bowl, the Stray Cats came back for a reunion show, opening for the Pretenders. It was the '50s-I mean the '80s-all over again. Meanwhile, last Thursday at the Chumash Casino, Setzer showed up with his "other" group, the one that has kept him seduced and occupied for the past 15 years, while old-school Cats fans and concert promoters clamored for original Cats' hits. Fronting his Brian Setzer Orchestra, Setzer demonstrated his savvy as a chops-blessed guitar player and tall-haired bandleader, obviously relishing the scale and big-machined swing that his well-hired players can deliver in a big-band setting. They put out a slick energy and musical octane that the Stray Cats' trio format can't even begin to muster.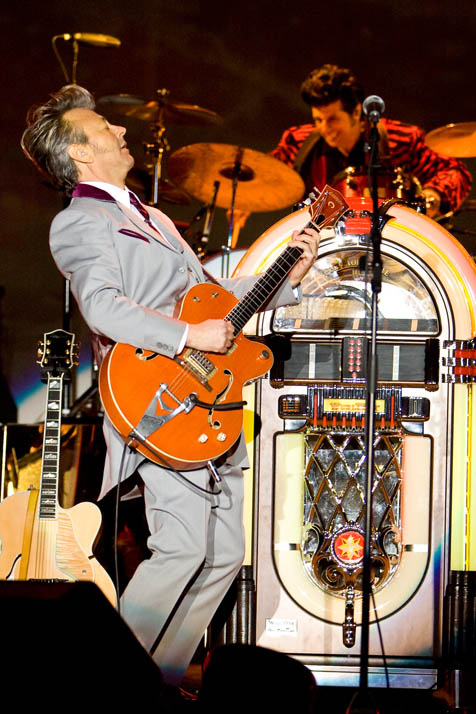 In fact, the musicians in his Orchestra-drawn from the pool of great big- band players in Los Angeles-outshine the leader in terms of fully developed musicianship, but Setzer smartly wriggles around his weak points and keeps us dazzled with jazzy chromatic smears and razor-sharp riffs on his beloved Gretsh guitars. Although he has moved on from the Stray Cats, Setzer hasn't moved on from its songbook or its refried rockabilly vibe, churning out old hits like "Stray Cat Strut," "Rock this Town," and "Fishnet Stockings." From the "serious" musical corner, he played a simplified take on "F¼r Elise," ballooning up into a sextet chamber jazz variation on Beethoven, rolled over.
Something was askew at the casino though; namely the hefty dose of Christmas music, served up only three nights after Christmas. One got the taste of flat bubbly or stale fruitcake with the sight of an Elvis-ized Santa Claus kicking off the jukebox to open the show and a guitar-bearing Grinch strutting around in costume. There were several Cats-ishly re-arranged carols and a brief swinging romp through the "Nutcracker Suite," come encore time. And for the final tune, Setzer led a pompadour-and-circumstantial version of "Jingle Bells," a surreal post-Christmas leftover-meets-hangover.
Then again, Setzer has always had a screwy relationship with the calendar, having made his name as a retrobilly clubber a quarter century ago-a quarter century after that genre's original heyday, making himself a proudly skillful man out of time.