Arts & Entertainment
Radiohead Announces SB Tour Stop
Band Confirms First Noth American Tour Since 2001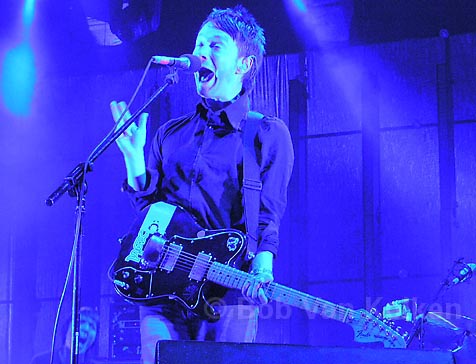 Radiohead will be returning to Santa Barbara, Pitchfork Media, along with various other music websites, reported Wednesday. In typical cryptic Radiohead fashion, no dates or venues are listed in the release. And while the typical Santa Barbara sources have yet to confirm or deny any shows, they are "sitting tight" in anticipation of more information. Apparently, the first leg of the band's North American tour will take place before its already scheduled tour through Europe, which begins June 6 in Dublin. The second half of their North American jaunt will take place after the European tour ends on July 8 in Berlin. In case you don't get a chance to see them in Santa Barbara, the band also has Los Angeles and San Francisco listed as upcoming tour sites.
Radiohead, whose In Rainbows took over on the Billboard Top 200 this week, last toured in 2006, with stops in Los Angeles and San Francisco. The band last rocked Santa Barbara in 2001 with two shows at the Santa Barbara Bowl.
The band released In Rainbows last year, with the album only available from their website. Buyers could pay any amount they deemed appropriate for the album, which is no longer available for download. The band is composed of lead singer Thom Yorke, guitarists Jonny Greenwood, Ed O'Brien, Colin Greenwood, and drummer Phil Selway. The UK group is well-known for its unique sound, which mixes guitar-driven rock with electronic synthesizing.
Below is a complete list of the cities (in alphabetical order) of the band's recently announced North American tour stops:
Atlanta
Boston
Charlotte, N.C.
Chicago
Cleveland
Dallas
Houston
Indianapolis
Los Angeles
Miami
Montreal
New York
Philadelphia
San Diego
San Francisco
Santa Barbara, C.A.
Seattle
St. Louis
Tampa, Fla.
Toronto
Vancouver
Washington, D.C.