Sports
Gaucho Volleyball Coach Ken Preston Retiring After 30 Years
Coaching to Kill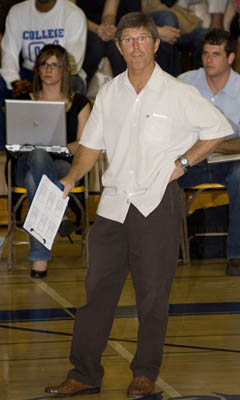 Jeff Menzel is like a golfer who packs the power to rip 350-yard drives but doesn't always hit the fairway. Menzel, a 6ʹ5Ê° freshman on the UCSB volleyball team, sent balls rocketing around Robertson Gym last weekend as the Gauchos opened the 2008 season by hosting the annual Elephant Bar Collegiate Invitational.
"Jeff is so physical," Gaucho coach Ken Preston said after Menzel pounded 21 kills in a four-game loss to UC Irvine. "He's going to be very good. He matured a little tonight."
Menzel came out of San Marcos High, where he also excelled in track and field, football, and basketball. Former volleyball stars at the school include Olympians Dax Holdren and Brook Billings, as well as current world beach champion Todd Rogers, who also played for the Gauchos.
Preston, himself a San Marcos grad (in 1966, before volleyball was a scholarship sport), is in his 30th year as UCSB's coach. He recently announced he will retire after this season. "He told us around the campfire when the team had a camping trip at El Capitan," Menzel said. "It came out of nowhere."
Preston, 59, did not want to draw attention to himself. He divulged his decision so that his successor can be chosen and ready to go to work at the end of the season.
Whoever succeeds the long-time coach will inherit one of UCSB's greatest athletic legacies. Volleyball is a sport where the Gauchos can realistically contend for national championships. Preston's 1988 squad was runner-up to USC in the NCAA finals.
The Gaucho men belong to the Mountain Pacific Sports Federation, which sponsors volleyball for 12 schools from the Pac-10, Big West, WAC, Mountain West, and West Coast conferences. They are the cream of the crop-10 of the top 15 teams in the national rankings hail from the Mountain Pacific Sports Federation.
UCSB is looking up at the competition with a preseason ranking of No. 14. The Gauchos were a top-five team last year, but they graduated three-time All-American Evan Patak, who led the nation in kills. In one of their most satisfying victories in recent years, they knocked 2006 national champion UCLA out of the postseason playoffs. UC Irvine won the 2007 crown.
UCLA has won 19 national titles, several at UCSB's expense, and the Bruins' coach Al Scates is hungry for more. He has been coaching the Bruins for 46 years and wants to go all the way to 50.
The Gauchos jump right into their Mountain Pacific Sports Federation schedule this week. After they play at USC on Friday night, their next five matches will be at Robertson Gym-against Cal State Northridge (January 19), Stanford (January 25), Pacific (January 26) and two against Hawai'i (February 1-2).
UCLA will visit Santa Barbara on February 20, and by that time Preston hopes Menzel and his other young hitters will be clicking with veteran setter Max Klineman and scoring points each time they whack the ball.
HOOP HAPPENINGS: Riding a three-game winning streak and 2-0 in the Big West, UCSB's women host UC Irvine tonight (Thu., Jan. 10) and Cal State Fullerton at 2 p.m. Saturday. In attendance at the latter game will be a contingent of sailors from the USS Ronald Reagan. The Gaucho men will be on the road against Irvine and Fullerton. : Westmont College will host Vanguard University in a Saturday double-header. The opening game, tipping off at 5:30 p.m., will pit
Westmont's women against the No. 1 NAIA team in the nation. : S.B. City College also has a 5:30 p.m. twin bill Saturday against Hancock College. : SBCC's Sports Pavilion will be buzzing with excitement Friday night when Santa Barbara High and San Marcos face off in a Channel League game. Santa Barbara (9-11) has been struggling with injuries, including a shoulder problem that has sidelined Roberto Nelson indefinitely. San Marcos went 12-4 in the preseason with strong post play by Frank Nordin, an exchange student from Sweden. Dos Pueblos served notice it will also be a contender, beating Buena 56-53 in its Channel League opener. Sean Park of the Chargers made three all-tournament teams in December.