Visual Arts
smART: Alpha Art Studio Group Show.
At the UCSB Faculty Club. Shows through February 28.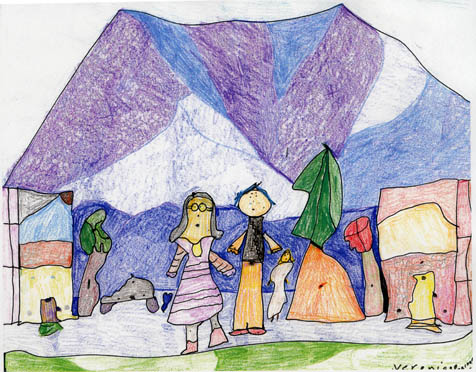 On the walls of the UCSB Faculty Club hang "Sea Horses" in watercolor, by Maria Arroyo, and "Flowers and Butterflies" in colored pencil, by Frank Quaranta. Add James Jasper's "Three People" in acrylic on board and works in various mediums by other artists featured in the exhibit and you could convince yourself you were walking with Alice through Wonderland. It's hard to pry yourself away.
The show is smART, an exhibit showcasing the works of a group of developmentally disabled artists who paint and draw at Alpha Resource Center's art studio. Their artistic expression is self-taught and is fostered by an art instructor who helps guide the basic skills that allow exploration of new genres and art theories. The artists' visions are their own.
To move through this exhibit is to play witness to imagination as much as observation. Start with a house and family figures in front of a garden, depicted with cartoonish realism. Continue through images that mark memorable, moving ability and agility within a medium. Take away an experience that will leave your brain buzzing if you're willing to follow the white rabbit.
Carol Nelmark's layered compositions and contained brushstrokes make for heady viewing in her "Untitled #1," in watercolor on paper. Turquoise and pale orange waltz past one another to evoke a feeling both pensive and calm. James Jasper's paintings are jarring in their boldness. His "Three People" is astonishing and kinetic, with muted colors and figures that fill the frame to its borders. Known for communicating through his art rather than through speech, Jasper's paintings are assertive and pointed. The varied mediums in his "Head Dress"-pen, crayon, and acrylic on paper-give the painting a collage effect, and the sense that many things are being said at once.
Participating artist Carolyn Rangel said of her work, "I love to paint what makes me happy." Her paintings consist of colorful flowers, effusive and tall, perfectly balanced against negative space.