Arts & Entertainment
Bobby Bradford and the Mo'Tet.
At the UCSB MultiCultural Center Theater, Saturday, February 9.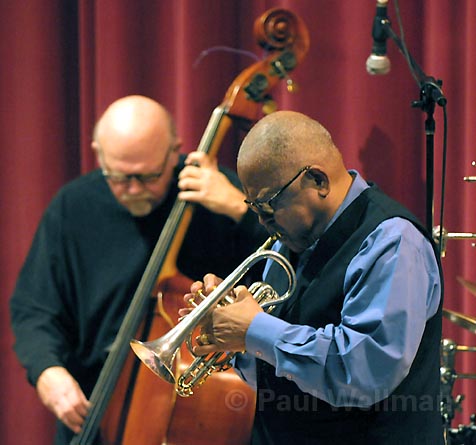 In the space of two soulful and thoughtful hours last Saturday, in the intimate cultural pressure cooker of the MultiCultural Center Theater, Bobby Bradford and his Mo'Tet delivered a jazz history lesson in an unofficial, whole 'nother West Coast cool. This cool school comes equipped with a balanced diet of swing, grit, avant garde notions, and stylistic reverberations of many of the jazz greats who either rose out of or passed through Los Angeles.
That elite list includes Ornette Coleman, whom Bradford, a singularly fine cornetist and a masterful composer, played with in his early years in L.A. and beyond, as well as Charles Mingus-whose ability to artfully stir "inside" and "outside" elements is also one of Bradford's fortes-liberty-seeking soloist Eric Dolphy, and the late clarinetist John Carter, whom Bradford played with for many years. Bradford and Carter were kindred spirits on the cutting edge of L.A. jazz, and one of Saturday's charmers was the New Orleans-ish dirge "Have You Seen Sideman" from an album in homage to Carter.
Now 73 and rarin' to go, Bradford was making one of his too-rare appearances in town, after his SOhO show five years ago. The music worked wonders in that saloon, just as it did in the primmer and more proper theater setting. The music just works, especially given the company Bradford is keeping: Keyboardist Don Preston, the stellar trombonist Mike Vlatkovich, and saxist Chuck Manning are all prime and multi-directional jazz players in SoCal, and bassist Putter Smith and drummer Chris Garcia put up a good rhythm section fight, trying to capture the elusive equilibrium between tradition and exploration.
Bradford framed his all-originals show with blues tunes, from a skittering piece from his as-yet-unfinished Duke Ellington tribute suite, to his witty, abbreviated "A Short Piece for Band" for the close. The going got blissfully free, and tonally Cubist, on "A Little Pain" (on which Preston slyly compacted themes from "Rite of Spring" into his solo). "She" was a languid, atmospheric ballad somewhat akin to Ornette's "Lonely Woman," and "Hello Dali"-also from Bradford's Ellington suite-moved from lazy melodic angularity to cerebral wailing over an insistent pulse.
While garnering praise and respect over the years, Bradford remains one of the West Coast's most under-appreciated and under-recorded jazz treasures, both on his home turf and globally. Perhaps poetic justice will prevail. In the meantime, those within earshot felt blessed, and inclined to spread the gospel.