Visual Arts
Meditations in Silver: Photographic Studies by Paul Caponigro.
At the Santa Barbara Museum of Art.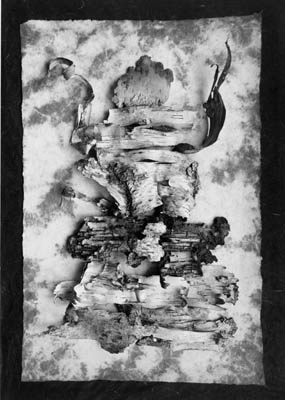 For the last 50 years, photographer Paul Caponigro has been traveling around the world, capturing iconic images from Stonehenge to the sacred gardens of Japan, and building a reputation as a renowned landscape photographer. But what happens to a photographer when his potential subject matter is confined to his own backyard? Caponigro experienced this sudden shift when knee surgery forced him to reduce his travel radius to his idyllic property in Maine. Over the following years, he created a series of small vignettes made of items gathered from his immediate environment. These photographs are the subject of Meditations in Silver, now on exhibition at the Santa Barbara Museum of Art.
Using shells, leaves, flower petals, stones, and other detritus from the natural world, Caponigro meticulously arranges found objects into compositions of intimate proportions. The inanimate models are often paired in curious partnerships: Abalone shells are propped against a cross-sectioned piece of wood, playing off of the silver gelatin print's capability for high contrast. The deliberate positioning of photographic props are the result of a well-thought-out artistic process; for each composition, Caponigro took a week or more to find the perfect complement of light, texture, and shapes. "It would have been too easy to have a simple setup," Caponigro said. "I would take my time setting up materials and putting them together so that they felt right." The artist is a naturalist at heart; it is that sensibility, matched with his innate artistic intuition, that allows him to see the potential in these commonplace materials.
Although the scale has been reduced and the photographic subjects shrunken to their most basic elements, these quiet, introspective still lifes have the same dignity and monumentality as his larger landscapes. In "Plant Roots" (2004), Caponigro placed plants with intricate root formations into three transparent glass vases. Viewed from table level, the roots are reflected on one other, their mass of miniature, branching systems simulating a wild expanse of forest.
Although Caponigro is a master at creating conversations between the subjects of his still lifes, a few of the compositions are contrived to the point of bordering on the sentimental. In "Woodspirit" (2004), the artist arranges pieces of tree bark to evoke the figure of a mystical nymph. Without the figurative reference, the juxtaposition of the bark's varied tones and textures would have made for a captivating and effective still life. Despite a few missteps, Meditations in Silver proves that true artistic vision can make a masterpiece of any subject, whether it's across an ocean or in your backyard.