Theater
The Knight from Olmedo
At the UCSB Performing Arts Theatre, Saturday, February 9. Shows through February 23.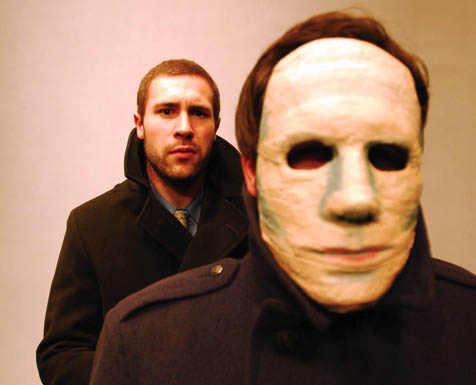 "When a man falls in love, nothing can change his mind," sang the ensemble during the prologue and the epilogue of this evocative performance of The Knight from Olmedo. The song referred to the pursuit of the beautiful Do±a Ines by Don Alonso and Don Rodrigo. Their romantic quests both end tragically. Although passionate love was the main subject of this moving 17th-century Spanish "corral" by Lope de Vega, more sinister motives lurked in the shadows between the light and humorous interludes.
The plot of the play was drawn from a legendary ballad about the knight from Olmedo. The character would have been familiar to Lope de Vega's audience, who revered the knight for his hero's life of chivalry, honor, and intrigue. Director Leo Cabranes-Grant chose the period just before the 1936 Spanish Civil War as the setting for his version, thus transferring the story from one militant and oppressive world to another. The musical score and songs followed the show's moods of hope and subsequent decline faithfully, most notably in the poignant song of King Juan's Nurse (Jacqueline Pelaez), who must wear a yellow star according to the requirements of the proclamation against the Jews (and Moors) of Spain. As King Juan, Paul McCormick vividly expressed his character's inner struggle between duty and personal integrity.
The image of soldiers in high boots treading heavily on the set's cobblestones contrasted sharply with the rustling of Do±a Ines and Do±a Leonor's brightly colored silk dresses. In love with Don Alonso, Do±a Ines devised a secret plan so that their marriage could take place. In a scene reminiscent of the balcony scene from Romeo and Juliet, Alonso and Ines upheld the high code of honor. As Do±a Ines, Leigh Dunham was radiant in her girlish gaiety, but also deceitful when necessary. Out of a realistic backdrop filled with beguiling daughters, masters, servants, bullfighters, jealousy, and insults, subtle aspects of the psyche emerged. The chameleon-like servant Fabia (Michaun Elizabeth Barner) blended in with the drab walls of buildings, even while emanating supernatural knowledge. But it was Matthew Horn as Don Alonso who enlivened the show the most with his complex and mercurial moods and thoughts. This Knight from Olmedo succeeded in dramatizing the text's existential questions while retaining the distinct flavor of its now-distant Spanish milieu.