Visual Arts
Ron Reihel: The Presence and Absence of Light
At East/West Gallery. Shows through March 24.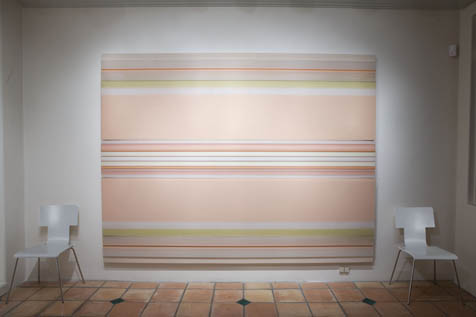 Ron Reihel's sculptural paintings, at once organic and artificial, distill landscapes to their barest forms. His minimalist, multi-dimensional works, composed of layers of clear urethane resin infused with color- and light-sensitive materials, evolve with their environment. They reflect light phases, emanate color, and, when their illumination fades, even retain impressions of the viewers that stand before them.
These chameleon-like sculptures offer the viewer an interactive, sensory experience. Muted, sandy hues, present in the light give way to bright jewel tones when they sense darkness. The gallery lights, programmed to alternately brighten and dim, provoke chromatic movement in the sculptures throughout their cycle. Tiny light particles emanate from the ceiling like stardust, imparting a cosmic sensibility to the work on display.
The exhibition's central and most immediately impressive piece, due in part to its massive scale and dramatic color journey, "California," invokes the incremental evolution of a sunset on the horizon. The work's horizontal stripes emit a serene pastel palette of terracotta, peach, pistachio green, and soft blue when viewed in natural light. As it transitions through its light cycle, warmer hues bleed into vibrant red, blues brighten and electrify, and whites disappear entirely.
Despite the industrial nature of the materials used in their creation, Reihel's sculptures emanate ethereal warmth. "Increments," a geometric, abstract piece reminiscent of an arid desert-scape, seems cold and spare until the light changes, creating a soft, dusky haze that harkens to the moments just prior to a desert dawn. Reihel's photographs of his own work, displayed alongside his sculptural paintings, exhibit a heat even more intense than those experienced in person, but they lack the mesmerizing, visceral experience of the sculptures themselves.
There is certainly a novelty factor to Reihel's work, yet it is best approached with a sense of wonder. And although there is a scientific explanation for how Reihel's sculptures evolve from muted tones to vivid, glowing hues, this is one of those instances in which the magician's tricks are simply better left a mystery.