News
Bridal Wear
{It's All About the Dress}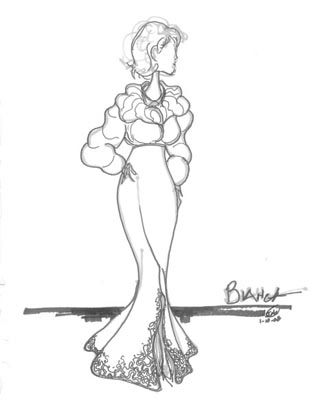 S.B. event designer Scott Corridan has made a name for himself creating exquisite events from scratch: turning lofty ideas into three-dimensional reality. And during the past 14 years at the helm of Corridan & Co., he's managed to do the same with his career; the last three years have seen his business go from event design to full-blown event production, not to mention a slew of cameos all over reality television. (You can currently check him out planning the wedding on VH1's Scott Baio Is 46 and Pregnant. By the way, he swears Scott and his betrothed/baby-mama-to-be are quite a sweet couple when the cameras are off.) But the latest phase of Corridan's evolution has him taking on the only thing that's left for this wedding maestro extraordinaire: the dresses.
The past three years, Corridan said, saw him doing a lot more of the wardrobe work with his brides for their big days: everything from daydreaming to shopping to watching the gowns get modified, fitted, and altered until they were deemed perfect. And all that time in the dressing room got him thinking. So, in July of last year, after letting his idea percolate, Corridan got to work on the business plan for his label, White Chocolate. "It started to look like it was going to be real in October; we wrapped the plan in December, and I started sketching in December. But I had my big holy-shit moment when we started putting together the muslins. It was like, 'I'm a designer!'"
His first collection, for fall/winter '08, consists of five designs, inspired by (and named for) five of the brides he's worked with for fall/winter weddings in the past. At press time, four of the five samples were complete, and the results are very Santa Barbara: a touch Western, a touch haute. And his muses are loving them. "The thing that's been a real kick for me is that I sent some emails, some sketches to the girls, and the response has been hysterical, like, 'Oh my god, I need to get married again!'" That may not happen, but he is custom-creating gowns for a few lucky current clients of Corridan & Co. who are planning to get married next spring and summer. "They've been cutting and clipping," he said of his brides, and the designs they come up with will make up Corridan's next collection, for spring/summer '09, as well as play a starring role in those ladies' big days.
White Chocolate will be carried at a bridal shop in town; visit and whitechocolatelabel.com to find out which one on March 1. The line should roll out in the store by March 15.