Arts & Entertainment
Pinback and MC Chris.
At the Majestic Ventura Theater, Wednesday, February 20.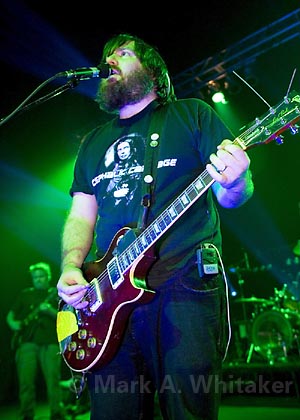 Proudly clad in my dirty $2 Hanes T-shirt, raggedy jeans, and flip-flops, I felt a twinge of awkwardness when I faced my predicament Wednesday night at the Majestic Ventura Theater. Hipsters! A glorious sea of guyliner-wearing, lady jeans-sporting hipsters. So it was a concern, given their questionable fashion taste, what such ill-dressed kids would be drawn to musically. But as the artists, MC Chris and Pinback, took the stage that night, my judgment and general fashion distaste melted away and a tragic wave of realization crashed over me: "Gadzooks, these kids may have something here."
Unlike typical sensi-scremo performers like HIM or The Juliana Theory, Pinback's show opened with nerdcore rapper, Adult Swim voice talent, and improvisational comedian MC Chris. This hip-hop half-pint flaunted a lyrical and stylistic edge that trumped other artists through a show that was heavy on the kitsch and light on the offensiveness. Despite his originality, MC Chris was hesitantly received-the vote was still out on nerdcore's trendiness post-Weird Al Yankovic. Even so, he turned out a couple highly entertaining beats: specifically, "OMC," "The Tussin," and the Heath Ledger tribute, "White Kids Love Hip-Hop." If his lyrical content didn't amuse you, his cartoon voice and risky mix of '80s movie and TV theme songs certainly did, proving that there is a place in the rap world for tiny white guys.
Pinback's slightly more traditional set followed. The band opened with three very strong live performances pieces, "Autumn of the Seraphs," "Torch," and "Bouquet." The songs boasted melodic consistency, studied structure, and vocal intonation with great success, and allowed for enough thematic and technical improvisation to keep the audience's interest peaked. It was here that we saw why the band enjoyed such high levels of commercial success and will continue to do so, should future material show as much emotional and artistic propulsion. There were inconsistencies-times when a delightful, reflective return to the Blue Screen sound came off tired and detached, like a boring version of The Police or Men at Work. Still, Pinback's funky departures and time-tested cohesion, particularly in the partnership of founders Zach Smith and Rob Crow, shined brilliantly. The night's unarguable highlight, "Walters," stood as a hopeful indication of the future of the band's performance style, mixing the best of the old with something decidedly new.
Wednesday night's quirky show, like its attendees, wouldn't be pigeonholed, providing a balance of new and recycled sounds, ideas, and artistic statements. I guess, despite their questionable style and often snooty air, hipsters hit the mark once in a while.