Arts & Entertainment
Rufus Rufus! Rufus! Rufus! Does Penny! Penny! Penny!
The Eldest of the Wainwright Brood Talks Writing, Touring, and Saving the Planet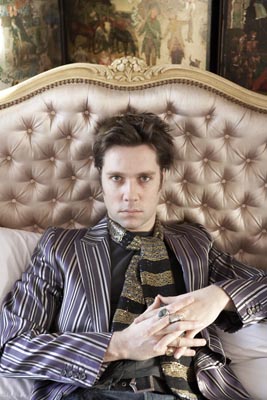 Its made the rounds here at The Indy, and most of my friends can't stop listening to it. "It" is Rufus Does Judy at Carnegie Hall, a two-disc album that finds Rufus Wainwright replicating Judy Garland's 1961 Carnegie concert. It's upbeat, quirky, and, as always, technically flawless.
Although born in New York, Wainwright grew up in Montreal, Canada, with his mother after his parents divorced. He's played the piano since he was six and was touring by age 13. Wainwright came out as a teenager, and he also became interested in opera and dith Piaf during his adolescence. Since 1998, he's released five full-lengths, including 2007's Release the Stars. It's an incredibly intimate record, full of vivid stories and images, but it also is big, loud, and vibrant-the grandiose sound many of us have come to expect from the theatrical performer. Currently, Wainwright is in the process of writing an opera (Prima Donna), and organizing Blackout Sabbath (blackoutsabbath.org), an idea he had during last year's New York blackout. The concept is to get people to turn off their power completely on June 21 in hopes of getting them to brainstorm ways to be more environmentally conscious.
Wainwright, who was "enjoying the daily chores of dishwashing and toilet cleaning" when we spoke last week, comes to the Marjorie Luke Theatre on Thursday, March 6, for an intimate solo show.
You've been so busy lately, with the Judy album and two big tours. Why did you decide to go at it solo this time out? There are two reasons. One is I feel fairly confident that after years of luxurious and fat sound, my fans are perhaps in need of a little more of a raw situation with my music. I think it's time. On the other hand, it's also much more lucrative [laughs]. I think if I had gone solo a few years ago, like before I made the Judy record or Want II with huge orchestras and stuff, it would have been a bit premature. I've definitely gone over the top and back [laughs].
Speaking of the Judy album, why did you choose Judy Garland? What is it about her that moved you to do a tribute to her? I read somewhere that you found a lot of comfort in her music after September 11. It wasn't so much after September 11; it was more after the war started in Iraq. I just felt like this opportunity for reconciliation and this moment when people were ready to help America and feel for us was totally dashed and replaced by warfare. It was very depressing, and it made me hate America at the time. But whenever I put on the Judy record, the 1961 concert, I was instantly reminded of how great this country can be and all the sophistication and glory that it once represented. So it was my way of holding on to the American Dream.
With Release the Stars you took on the role of producer. How did that differ from previous recording experiences? It's very similar to the going solo situation. On one hand, I've been involved intimately with my records for years in terms of production, and I've worked with some of the greatest producers on the planet. I've learned a lot from them. I felt, at this point, that it was time to turn the tables and show off what I had accrued over time with all of these amazing experiences. It's also very lucrative, or much less expensive-that's a way to put it [laughs]. I don't have any price tag. Once again, it's artistic and financial at the same time.
Will you do it again? I'd like to produce another album. I'd also be into producing someone else's album. I think that'd be fun.
Any particular artists you have in mind? Someone in my family would be great; or I'm good friends with Beth Orton or Teddy Thompson. I have a lot of friends whose talent I appreciate and I'd love to produce. Umm, Ozzy Osbourne-number one [laughs].
You've said that the message of Release the Stars is that now is the time to act on your dreams. Do you feel like you're practicing what you preach? Oh yes, very much so. I'm in the midst of negotiating and writing an opera, and that has always been my life-long ambition. It is really something I thought I would do years down the line, when I was fat and bearded. But I realized that you really have to start yesterday if you want to get your dreams accomplished. It's all about action.
Do you feel like it has anything to do with the Blackout Sabbath project? No, the Blackout Sabbath is more just an idea that occurred to me that didn't really go away. I thought it'd be kind of a fun thing to do, and it just kept returning to my consciousness. Finally, I said, "Let's just do it." But for me, it's also a way of having a day off. That's sort of the main thing; so I don't have to answer any calls [laughs].
How are you attacking the process of writing Prima Donna? I've been working on it pretty solidly for the last year, and I've already written most of it in terms of piano and voice. The next big step, of course, is orchestration. That's going to take a long time because I'm such a big fan of the great composers. I in no way want my work to seem like an imitation, or the second-rate version of my idols. I want to at least be, or at least attempt to be-maybe not as complicated-but at least as deep.
You tour extensively in Europe and not as much in the States. Why is that? I tour a fair bit in the States. But I am more sought after in Europe. That's the nature of the two different societies. In America, the radio or television or youth culture is dominated by commerce. And what sells the most wins. That's never been my story. I've always done okay, but it's mostly about critical acclaim and new ideas. And America is not so good at processing that. They like numbers.
We've been talking about that balance between art and making something that's lucrative. I still think it's important in Europe to have a solid fan base and to make money and all of that. I've been nominated for a Brit Award, which is like an English Grammy, and I've been nominated several times for Juno Awards, which are like Canadian Grammies, but never for a Grammy. But, as I saw this year, it's all about who sold out, basically-unless you're Amy Winehouse, who I think is great.
How does being an out gay man impact your experience of touring? I am really proud of being gay, and I think it's one of the great privileges to be an out, happy, intelligent gay person who is articulate. I follow in a fabulous tradition of men and women who've saved society many times. So I'm happy that I'm still able to do that.