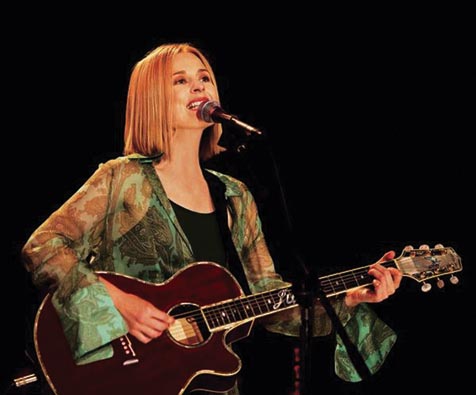 Julia Fordham belongs in Santa Barbara. At SOhO last Tuesday, she even said so, remarking, "It's so nice here-I want to live on State Street," then asking, "Can I move into Anthropologie?" After 10 albums over 20 years, Fordham's voice and outlook are as beautiful as ever, and the show was a stunning combination of old favorites and jazz songs from her new album, China Blue. Her voice has a remarkable range-lower than you thought a woman could sing and as high as any soprano at the Met. And every note has a fascinating texture-pure and rich.
Fordham's band, with Jon Gilutin on keyboards, Brett Simons on bass, Jason Smith on drums, Mitchell Long on guitar, and Celia Chavez providing the background vocals, shared in her spirit of comfortable artistry, covering each song flawlessly and taking a few solos without upstaging the main attraction. Fordham opened with "Falling Forward," a song about ambivalence and the passage of time. Two of her most popular-and heartbreaking-songs, "Porcelain" and "Girlfriend," followed, sounding curiously more peaceful than in years past. "I Want to Stay Home With You," one of the new songs, was joyous and fun. Fordham told us she had written it for her two-and-a-half-year-old girl: "She says, 'Sing, Mama Julia, sing!' So I do."
So she did-and time rushed by, as Fordham switched effortlessly back and forth from pop to jazz, and each song had something interesting and new about it. Just as things were winding down, Julie Rogers arrived with her violin, having come straight from another concert in town. Rogers quickly attached a pickup to her instrument, and they did two more numbers, including a version of "For You Only for You" as a wonderfully sly duet. Still, the song that drew the evening's strongest response was "Happy Ever After." It was on her first album, and had a line about South Africa having "no happy ever after." She changed it when apartheid ended, re-recorded it for a rainforest benefit in 1998, and did it again to help the victims of the 2004 tsunami. The world changes; things get better; people find hope again. You can hear it in her voice. Julia Fordham should come back soon-she belongs here.