Arts & Entertainment
Granada's Re-Opening: Suitably Grand?
One Indy Writer Asks "Where Did That Money Go?"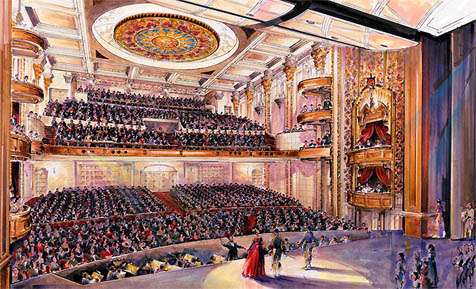 Years before the Granada closed for restoration, I found myself in the back of the theater, late at night – through perfectly legitimate means – and had the opportunity to see the dust, the decay, and the dimmed grandeur that was the balcony and the twisting, turning passages and stairs. When the building is filled with people, it's hard to realize how huge it is, and how easy to lose oneself inside.
It was, therefore, with mixed feelings that I took a tour of the reopened Granada on Sunday. Having once had it all to myself, the thought of seeing it brilliantly lit and filled with people once again was both exciting and a little melancholy. I expected to be overwhelmed by the work that had been done – but it was also with mixed feelings that I exited a little while later.
Despite the many parts of the Granada which have been beautifully restored, it was hard to avoid the feeling that the opening is somewhat premature. The Founder's Room, a lobby area on the second floor, overlooks the marquee and State Street. Although the room will probably be quite lovely when complete, the bare walls – some still just cement – and the workers' tools scattered about were a little surprising, given the amount of hoopla that has been generated over the past week. Fifty million dollars, it seems, have not yet gone quite far enough. The paint splotches along the stairs and the general air of incompletion throughout merely added to this impression. It's true that what's been done to the finished portions of the building is impressive; there's much to admire. The balcony and side boxes, in particular, are perfect – and the fact that they blend so seamlessly and appear so effortless only makes the work still to be done appear more jarring.
After spending such a grand amount of money, it's understandable that the Granada powers that be wanted to show the public the results as soon as possible. They might have been better served, however, by waiting just a few more weeks. With work still to be done, it's hard not to wonder where all those millions went – simply because while massive efforts have been made, the changes, without the shiny perfection expected from the project, just don't seem sufficient.