Arts & Entertainment
Hiphop Violin on a Mountaintop
Miri Ben-Ari performed at the Jewish Federation of Santa Barbara Ambassadors of Freedom Dinner on February 27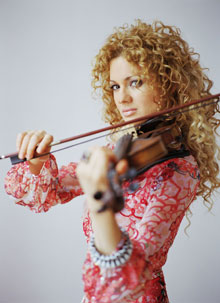 This benefit performance, held at a lovely home perched high above Montecito on exclusive Park Lane, attracted the best and the brightest of Santa Barbara's Jewish community. Honorees included Salud Carbajal, Richard Kux, and Crystal and Cliff Wyatt, along with the state of Israel, which was celebrated as a favorite cause by all on its 60th anniversary.
How fitting, given the evening's theme of Israel and ambassadorship, that the musician selected for the program be Miri Ben-Ari. This young Israeli is the world's foremost practitioner of an unusual kind of crossover music. A classically trained violinist, Ben-Ari uses her amplified instrument and a backing track of samples to create hiphop violin, a style that is based in classical, but comes out sounding like contemporary R&B. She began exploring this style as a session musician with such stars as Kanye West, Jay Z, and Alicia Keys. Her breakout single is called "Symphony of Brotherhood," and employs excerpts from Martin Luther King Jr.'s "I Have a Dream" speech as samples.
On this perfectly beautiful Wednesday night, Ben-Ari was relaxed and radiant in front of the enthusiastic audience, whipping her bouncy curls around between songs and expressing gratitude to the state of Israel, which is her home, and to its many American friends. The music she makes could easily be danced to, but most people chose to remain seated until Ben-Ari made a clever move with her third number. Launching into a Jimi Hendrix-inspired, feedback-drenched version of the Star Spangled Banner, Ben-Ari had the whole room on its feet in a few seconds. This was just in time for her to break out the King samples, which she did next, on an extended version of her "Symphony of Brotherhood."
The final impression left by this evening and performance was one of great soulfulness and high spirits. Miri Ben-Ari may not meet more traditional expectations for classical music, but there is charm and originality in what she is doing, and she is clearly having a great time with it. The Jewish Federation of Santa Barbara is to be congratulated for presenting such a vivid and challenging artist in this context.