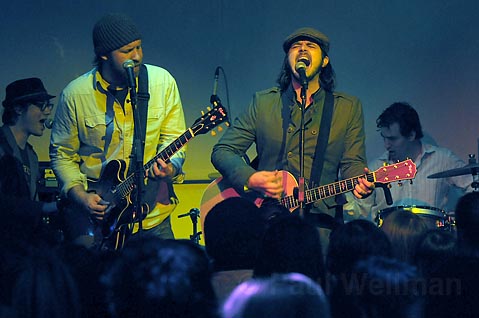 When the Hotel Cafe tour rolled into town on Friday night, it offered much more than just an insight into the dynamics of the well-known Hollywood musical haven-it also offered a glimpse into the new frontier of music itself. Most of the artists who performed had recently embraced far more inventive ways to deliver their music to an audience than simply standing on a stage. Film placement and soundtracks, network television, television commercials, and even sports reports have been just some of the effective vehicles this collective has used to foster their careers. And given that many of the show's audience members had discovered these artists through such means, it was interesting to gauge their reaction to seeing the real thing.
The evening was an on-and-off affair, with each of the tour's six players contributing two or three songs before turning the stage over to their successor. Jim Bianco opened the proceedings, immediately setting the standard for the evening. His gruff vocals delighted just as much as his vibrant compositions. While Cary Brothers's quiet and contemplative ballads were at times lost in the murmur of the crowd, his reputation ensured his offerings were met with due appreciation. Norwegian Kate Havnevik threw forth an enchanting offering of her electronic-infused take on the singer/songwriter schtick, and Greg Laswell invited us to share in his beautifully sculptured tales of woe. And Jessie Baylin tore through a vibrant offering of country-meets-jazz-meets-folk-tinged pop before Ingrid Michaelson delightfully rounded off round one.
Then the six artists returned-albeit in a slightly revised order-for another installment of musical tag. And while passing the musical baton around another six times meant that a lot of musical contemplation was demanded over the course of the night, the injection of each player's respective hits kept the audience attentive. Nowhere was this more apparent than when Brothers launched into "Blue Eyes"-his contribution to Zach Braff's runaway success Garden State. Havnevik and Michaelson were not the only ones joining him on backing vocals, as the audience also chimed in with the song's gentle melody. So while the Cafe's collective might have been anonymously born into the industry's consciousness via some well-placed tunes, they were recognized and embraced just as passionately by Santa Barbarans Friday night.