Visual Arts
Isaac Julien: Fant'me Afrique
At UCSB's University Art Museum. Shows through May 11.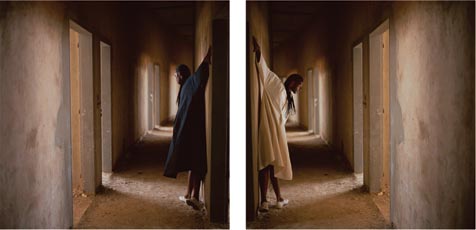 Fant'me Afrique, a three-screen video installation piece shot mostly in urban Ouagoudougou and rural Burkina Faso, shows one of the most distinctive sensibilities in the contemporary art and film worlds operating at the top of his game. The way Isaac Julien's images sail across these three flat screens and echo through the work's dense sound-space is technically dazzling, but his sophisticated aesthetic coalesces around a cultural and intellectual agenda that transcends technique. Julien comes to Africa as a historically self-aware person of African descent and as a film artist well-versed in the various codes of documentary, narrative, and world cinema. In Fant'me Afrique, he has succeeded in weaving a vision of the continent that includes both the cosmopolitan realities of contemporary African life-including a thriving cinema culture and futuristic urban architecture-and the traces or "fant'mes" of an imaginary Africa that exists primarily in the imagination.
At 17 minutes, Fant'me Afrique offers an experience very different from that of a short film of comparable length. For example, it is easy and enjoyable to watch the entire piece while standing, which creates a sense of active participation that more traditional formats lack. The artist clearly has a well-developed command of the multi-screen video installation as a unique medium, and his material, which is non-narrative but not abstract, feels full and deep. Although these images are offered as "notations," as the artist describes his current work, they are the notes of a particularly brilliant observer, and one who has devoted several decades to his craft.
The principal actors in Fant'me Afrique are dancer Stephen Galloway (of Ballet Frankfurt) and actress Vanessa Myrie (a frequent Julien accomplice), and they offer a study in locomotive contrast. Myrie moves purposefully through constantly shifting landscapes of great beauty and intricate significance, while Galloway dances-sometimes ecstatically-and then disappears. When their paired figures occupy adjacent screens at full length, the impact on the spectator is physical, and they each exert a strong kinetic attraction throughout. The settings range from ancient mosques and indigenous architecture to urban nocturnes shot during FESPACO, the pan-African cinema congress. The contemporary scenes are also intercut with archival footage of past African political leaders and ethnographic documentaries. To fully trace the many fant'mes of this Afrique will take multiple viewings. As for Isaac Julien, the process of cinematic bricolage continues.