Business
Kid Millionaire Cashes In
The Isla Vista Roots of Superstar Deejay, Record Exec, Clothing Designer, and Global Trendsetter Steve Aoki
On a cold, wet Wednesday night this January, a crowd was quickly amassing inside The Roxy, the Hollywood club that's launched a thousand superstar ships and played host to pop icons from John Lennon to Jay-Z. Swelling even before doors opened at 9 p.m., the flow of Sunset Strip patrons surged as the minutes inched closer to midnight, the hallowed hour when the evening's top billingone of the planet's hottest deejays, a fu-manchu'd impresario who goes by the name Kid Millionairewould take the stage.
It wasn't the size of the late-night Wednesday crowd that impressed anyone even remotely aware of the Los Angeles club scene knows that weekends are for the freeway-and-suburb folks, and that the real action goes down on the weeknights. More unexpected was the wide cultural range of music fans eager to get inside and huddle together on the club's tiny dance floor. There were white kids, Asian kids, Mexican kids, and black kids; hip-hoppers and hipsters, skaters and surfers, indie rockers and ravers; celebrities and 9-to-5-ers. It was a demographic free-for-all, and the assembly seemed to share nothing more than their dedication to partying on a school night.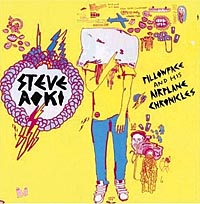 Looking out over the collective, I scratched my head in amazement, wondering, "What's the connection? What's this scene all about?" I'd been trying to get my bearings on the smorgasbord of club-goers since I walked through the door, and my confusion was only compounded by the fact that they'd all come together for the release of Kid Millionaire's debut album, Pillowface and His Airplane Chronicles. CD release parties make perfect sense for live bands, but this was a deejay's album that amounted to a compilation of remixed songs, most of which these kids probably already knew by heart.
At about half past midnight, Kid Millionaire emerged from the darkness. And with the swipe of a finger to his laptop, his set began with raging, angry rock, blaring at a chest-rattling volume. As the bass line grew heavier and the songs shifted, Kid Millionaire-unlike the mostly motionless deejays from earlier in the night-started jumping on stage like a pogo stick, whipping his long, jet-black locks through the fog-machine-clouded, laser-illuminated air. The world's most wanted deejay, who gets paid as much as $10,000 for just an hour of his time, was freaking out onstage like a speed-addled rock star, singing along with the sampled lyrics, and swigging exaggeratedly from an oversized bottle of vodka.
The crowd responded instantly, jumping in unison, throwing their arms about, and shaking as if they'd been possessed by the devil of dance herself. Kid Millionaire's explosive energy infected them, liberated them; all of a sudden this cultural crossbreed of Southern California youth started to make sense: They want to dance, yes, but they also want more-they want to belong to something, to be part of a genuine generational movement. They want, whether they'll admit it or not, to be cool. And they've found their muse in Kid Millionaire, a UCSB graduate who, it turns out, first began his rise to success and stardom in the living rooms of Isla Vista.
Steve the Student
Kid Millionaire is better known by his birth name, Steve Aoki. And although deejaying is certainly what's showered Aoki with the most of his money, fame, and critical praise-he won last year's prestigious "Set of the Season" award in Ibiza, Spain-remixing songs new and old to get the party hoppin' is just the Newport Beach native's latest in a long list of musical forays.
He's also the founder and CEO of the indie label Dim Mak Records, a designer of clothes, shoes, and even headphones, a friend of celebrities like Lindsay Lohan, the brother of model-cum-actress Devon Aoki, the son of Benihana Restaurant mogul Hiroaki "Rocky" Aoki, and a globe-trotting trendsetter who took more than 600 airplane flights last year alone to play more than 300 gigs. These days, the Japanese-American's long black hair and lanky frame can be spotted on billboards from Manhattan to Manila, seen in Pepsi commercials with Puff Daddy, photographed by the paparazzi for OK, People, and the National Enquirer, and featured prominently in magazines such as BPM, Blender, Vanity Fair, and Billboard.
But if you were a UCSB student between 1995 and 2000, you might remember Aoki as I do: a relatively reserved, somewhat scattered student who was rumored to be the heir to a restaurant fortune and whose original brand of mismatched, tight-fitting, dork-chic clothing could be spotted from across campus. Little did we know then that our classmate was cultivating a do-it-yourself ethic from inside the Goleta hardcore music scene, throwing more than 450 concerts over the years in his rented Isla Vista digs, and planting the seeds of Dim Mak that would later sprout into a full-blown indie rock movement.
We had at least one class together, but as memorable as Aoki was, he would never have crossed my mind had a club scene-savvy coworker not mentioned his name to me a year or so ago. A Google session later, I learned that my former classmate was conquering the pop cultural landscape, so I headed south to investigate.
Aoki's headquarters are also Dim Mak's new "offices," two stories of open space cluttered with the sort of paraphernalia-posters, stickers, CDs, T-shirts, a poker table, a record player, computers, and curiously costumed interns-required to dominate the indie world. They inhabit the shell of a former flower and bridal shop on Hollywood Boulevard, east of the 101, somewhere between Thai Town, Little Armenia, and Los Feliz. In January, the windows were still coated in fading newspapers and old Dim Mak flyers, but despite its appearance, office visitors apparently weren't rare. When I walked in 15 minutes early for my interview, Aoki and two cohorts looked my way, but didn't flinch as they spoke about how to remodel the place into a retail store. Only when I spoke up did Aoki welcome me as if meeting for the first time-I must not have made much of an impression on him in college.
When he joined me later in "the podcast room"-the tiny cave that was formerly the flower refrigerator-he sat on the floor, leaving me on the couch, and led us through as invigorating a conversation as I'd ever had. Aoki, dressed in dark, tight jeans, white sneakers, a gray tweed coat, pink wristbands, black headband, and a Superman belt, recounted his first days at UCSB, when he was a straight-edge (read: no drugs, no drinking) kid living amid the freshmen bacchanalia that is the Francisco Torres dorm. "I was depressed," said the 30-year-old. "I was alienating myself on purpose. I didn't get along with anybody. I had no friends."
His outcast life left plenty of time for studying, so he read all the time and got good grades, double majoring in sociology and, of all subjects, women's studies. Faced with feminist fervor, Asian-American pride, and the study of protest, Aoki developed an extremely leftist political slant-even founding a chapter of the Revolutionary Anti-Imperialist League; "We read our Mao," he remembered-and serving as an elected student advocate during what he called the "most radical period of the [UCSB] student body."
"He took all the classes on campus that would be edgy with respect to politics and culture. : He was very much eager to explore the edges," remembered retired sociology professor Dick Flacks, confirming that Aoki was into "some pretty militant stuff." Another professor of Aoki's, Diane Fujino, recalled that he had "a great sense of purpose and initiative" and that he wanted to "stay on the margins because he didn't want to be corrupted by mainstream society."
Come graduation, Aoki was aiming to become an academic and applied for Asian-American graduate programs. He was accepted by New York University and San Francisco State, but turned down the offers. "Once I was accepted, I just threw it away," explained Aoki. "I needed to go all the way to the end just to touch the finish line, so I could start another race."
Steve the Scenester
Aoki's current race actually began in 1995, during his freshman year at UCSB. It was then that he stumbled upon a little magazine called HeartattaCk, which was published quarterly by Kent McClard, owner of Goleta's Ebullition Records, and focused on hardcore music, a strain of edgy post-punk rock that was being produced by kids in garages around the globe. McClard is, in Aoki's estimation, "the godfather of hardcore," and HeartattaCk, which published its 50th and final issue in June 2006 after 12 years in print, served as "the bat signal to all these kids around the world."
The hardcore scene wasn't just about music, explained McClard, who's mentored countless Goleta and UCSB kids under the genre's DIY umbrella. "It's about attitude," said McClard. "It's not about what you're going to get out of it. It's about doing it, about having a good time, and doing what you want to do whether you're successful or not. Success is a standard that should be set internally by you, and not externally by the world." In short, it was the perfect place for a music lover and social misfit like Aoki to land.
Once he moved into Isla Vista proper, Aoki took the concert promotion torch from McClard. He started throwing live shows in his house behind Lupita's (now Super Cuca's) to the tune of 20 or so a month. He never made a dollar from the concerts-even though he had to clean up vomit from the carpet and couch-and that taught him the "idea of sacrifice," that "the more you give to your community, the more you feel like you're getting from it." As landlords lost patience, Aoki moved around I.V., turning a frat house into an apartment complex/concert venue called the Pickle Patch and later founding the Biko House Co-Op, which still hosts concerts today. "Every straight-edge hardcore band in the book played our living room," said Aoki, and not just small-timers either-Jimmy Eat World and At The Drive-In played Aoki's circuit. His own band This Machine Kills-a reference to a slogan on Woodie Guthrie's guitar, which he'd seen in one of Flacks's sociology classes-also played these shows.
It was an active time in the Isla Vista music scene. But according to McClard, "There are only so many shows that the community can support. Frankly, I think he did way too many." Sometimes Aoki's gigs would attract just one fan, said McClard, explaining, "Steve's biggest problem was that he never said, 'no.'" That no-holds-barred attitude is certainly key to Aoki's current multi-pronged success, but it wasn't universally appreciated back in college.
"Steve's involvement was always bumpy because he has no follow-through," said Lisa Oglesby, a HeartattaCk editor, Ebullition employee, and former close friend of Aoki's. She explained that Aoki was always the guy with the vision, but that others often were left to do the dirty work. "Steve always had to get the ball rolling, and he did, but he was very lucky to be around a very supportive community," said Oglesby. "A lot of things he kind of messed up sort of worked themselves out because everyone else was also taking care of things. He was the first one to say, 'Yes.' It didn't occur to him, 'Why not? Why wouldn't I do it? Maybe I have class. Maybe I've already done four shows this week.'"
Though Aoki's modus operandi may have been frustrating at times for his UCSB support system, it seems to work in Hollywood, where there are plenty of yes-men and eager interns to do the leg work. "He could not be contained to focus on something. He was just exploding in every direction with energy and ideas," said Oglesby, who, like McClard, is hardly surprised by Aoki's success. "And if he gets in an environment where it works for him, he's going to thrive."
With hundreds of concerts under his belt, it only made sense that Aoki become a record producer, too. He began putting out albums for bands he liked, each accompanied by revolutionary images and slogans that Aoki called his "Hearts and Minds" series. He dubbed his label Dim Mak, which means "Death Touch"-a nod to his hero, Bruce Lee, the only thoroughly positive Asian role model he could find as a child. He learned the business from the ground up, even shrink-wrapping albums himself.
Very few of his UCSB classmates had any notion that this was going on when Aoki wasn't in class. "I was literally living two lives," he said.
At the same time that he was accepted into S.F. State and NYU, a band called The Kills sent their demo to Aoki, requesting that Dim Mak distribute it in America. Knowing the record would be huge, Aoki was faced with a dilemma: go to grad school or spend every last dime to become a real record producer? He swallowed the latter pill and hasn't looked back since.
Aoki later scored some major clout by putting out music by art punksters Pretty Girls Make Graves, with whom he also toured America and Europe. His label's reputation grew internationally as a great place for emerging bands, so much so that English indie rockers Bloc Party came to Aoki in 2004, wanting him to release their American debut, Dim Mak's 69th album. There were no longer any questions about the label's creative vision or financial viability.
Steve the Star
While throwing shows and putting out albums, Aoki was also busy growing his own vinyl collection, which tops out somewhere between 15,000 and 20,000 records. One day in 2004, a friend noticed the stacks and suggested that Aoki start sharing his music as a deejay. Aoki started spinning at small bars for a handful of beer drinkers on weekday nights, quickly attracting a small following. Around the same time, Aoki began hosting Dim Mak parties on Wednesday nights at L.A.'s Beauty Bar, where he invited members of bands like The Shins, Muse, Modest Mouse, and Interpol to bring their own music collections to spin. "It was never about me as the deejay," said Aoki. "It was about Dim Mak and the party."
Next came Dim Mak's Tuesday night Cinespace parties, where the same rock bands would play live. "Every single band played Cinespace before they broke. It's the longest standing indie party probably in L.A. history," said Aoki, calling the night "globally historic."
Fueling the fame fire was the Internet-especially the music sharing social site MySpace.com-and the work of Mark "Cobrasnake" Hunter, a young photographer who would upload party photos to his Web site daily. Hunter and Aoki quickly became friends, and the relationship-Aoki's connections teamed with Hunter's viral publicity machine-turned anything Dim Mak sponsored to gold. These days, in addition to the Tuesday Cinespace, Dim Mak also sponsors Banana Split Sundaes at Hollywood club LAX, a preferred hangout of reigning party princess Paris Hilton.
Aoki's since become a tabloid twin of Lindsay Lohan. "We bonded because we're very similar," said Aoki after remarking that he usually prefers not to talk about their relationship. "Even though she's a huge icon, she's got the most amazing taste in music. That's why we ended up deejaying together." Although Aoki also has a long-term girlfriend, his friendship with Lohan seems strong (they were seen dancing together prior to Aoki's set at the release party for Pillowface).
As the Dim Mak scene grew, Aoki focused on his deejaying, blending hip-hop and rock with electro, a musical genre rooted in the early days of break dancing-think funky backdrops with flatly delivered rap lyrics, la Afrika Bambaataa's "Planet Rock"-that's experiencing a serious rebirth these days. "That's the future of what I envision to be the musical environment," said the deejay. Aoki managed to tap into an international music vein, and his cachet has since grown exponentially, as he has played to festival crowds of more than 15,000 and booked gigs from Kuala Lumpur to London.
On the back of that financial windfall, Aoki has also expanded Dim Mak's brand to include clothing, a move that landed him a role on an MTV reality show called "The Look Right Now." Late last year, he signed a joint venture deal with Downtown Records, which Aoki said will give his label "more muscle to blow up our bands, and sign bigger bands, and remain what we are."
Aoki adamantly denies ever getting financial backing from his wealthy father, who's been estranged from Steve's mother and much of his extended family for years. "It's obvious he has money to invest," said Aoki, "but he's never invested in his kids, ever." (In fact, Rocky actually sued his own children a couple years back when they tried to wrestle the Benihana business away from him due to concerns over his new wife. Steve was not part of that suit, and reports that his dad's proud of his success. "To him, as long as I'm making money, that's all that matters.")
No one disputes that claim, though both McClard and Oglesby never remember Aoki hurting for money during his college days, positing that he was able to take risks that people from less privileged backgrounds would not have been able to. "I don't know if he's gotten a dime from his dad," said Oglesby, "but his mother got dimes from his dad all the time. It's not like she was destitute when he was in college." And the family connections don't end with Rocky. McClard has heard through the grapevine that Steve's half-sister, Devon Aoki, a model/actress who starred in 2005's Sin City, opened many doors for her brother in both the deejay and celebrity worlds.
Regardless of why he's now sitting atop the pop culture landscape, it's clear that the Aoki train is charging ahead full steam. "I have big plans for 2008," said Aoki. "Everything we're doing is selling out."
Steve the Sellout?
Any success story in the music industry comes hand-in-hand with old fans and former friends saying that you've traded your values for the almighty dollar. This is especially the case for someone from a hardcore background, where commercialism is despised and the mainstream is shunned. For Aoki, remaining true to his radical, socially conscious roots is a constant challenge.
Though he's remembered fondly by Flacks, Fujino, McClard, and Oglesby-all of whom also seemed genuinely happy for his current success-they also openly wondered whether Aoki Version 2008 is anything like the kid they knew at UCSB. "It's really hard for me to say Steve sold out because I don't know what he believes in anymore. I don't know if he has those same values," said Oglesby, explaining that she remembers Aoki being excited about Mumia Abu-Jamal, and against the evils of multinational corporations. Flacks believes he sees "traces" of the former Aoki in his current incarnation, and McClard feels that some of his DIY ethic is still present. But Fujino is most hopeful, explaining, "So many people in the music industry want to make it big and become famous and have money for themselves. I don't think that's who Steve is. That's not what he was when he was here, and, from what I can tell, he's trying to stay true to that."
Aoki enjoys debating the matter, as he did with me over the phone last month. "I have a feeling that any sort of change that happens in anyone's life, you're gonna get some sort of feedback, positive or negative, on decisions you make when you make that change," he explained. "When I moved to L.A., I changed, I evolved. But I have the same elements of how I do business and how I live my life as I did back then. I have the same foundation of the DIY mentality." And compared to his "violently" radical college days, Aoki said, "I feel like everything I do doesn't have to be overtly political anymore."
Aoki said that he could have quit the record label and just stuck to deejaying, which is where the money comes from. But he has no plans to abandon Dim Mak, explaining, "Eighty percent of my income is put back into the label. I don't care about luxuries in life as much as I do about maintaining the sanctity of Dim Mak. That's my house. Dim Mak is my life." The label's current roster includes Mystery Jets, Foreign Born, Scanners, The Deadly Syndrome, and Oh No Oh My. Aoki, who drives a Prius, lives in a small apartment, and calls himself a "very humble dude," also wants to found a nonprofit that would bring music education to inner city schools.
Furthermore, because there are so many faces to Aoki, he's pretty sure that he's able to make plenty of people happy, even if some are miffed that he's making so much money. "But if I put that money back into something that exists within that person's world, like my label, if that person really likes Klaxons, and I am releasing cool Klaxons T-shirts and vinyl, is that selling out for them?" Aoki asked. "Who knows? It's such a give-and-take. It's almost like a great debate I could hear in a college classroom."
Sellout or not, Aoki's scene may not be for everybody. My first taste was a sour one. After being invited to check out a Banana Split Sundaes party in December, even though I was supposedly on the list, I had to spend an hour clawing my way in, only to find a club scene much like any other. It was a thoroughly awful experience. It wasn't until January, when I chatted at length with Aoki in his offices and attended the CD release party for Pillowface, that I became aware of his allure. His energy is authentic, his taste is thoroughly creative, and, thanks to the Internet, his scene is virally addictive. I'm not sure if it's really a movement per se, but there will be identifiable tracks left on the pop culture canvas by Aoki's death touch.
"I feel like I'm part of something bigger that's filling the void," said Aoki. "There are more producers coming out of the woodwork, more kids in bedrooms producing remixes, more kids getting hyped on shit, on making the shows crazy and live. It's never the artist that really changes the scene. The artist can instigate the scene, but the kids have to be there to fill the room."
It seems that whatever his cloud might be made of, one thing's for certain: The kids have found their muse in Steve Aoki, and he's found his muse in them.
4•1•1
Steve Aoki is slated to spin at Tonic on Thursday, April 24. For more info, visit dimmak.com and steveaoki.com.