Visual Arts
Gary Lang: Hybrid Variations
At Edward Cella Art + Architecture. Shows through April 20.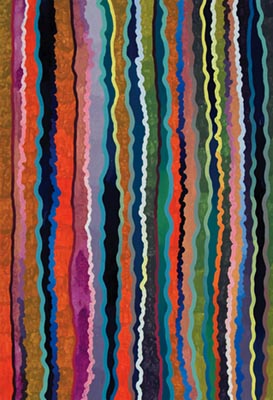 It's easy to wonder how a 40Ê°33Ê° panel of vertical, colored stripes can make you see your life at different ages, feel the hum of Earth at cheek-to-grass level, sense the rise of skyscrapers in vital cities, and make you quietly levitate all at once. The exhibit is Gary Lang: Hybrid Variations at Edward Cella Art + Architecture. The pieces are a combination of oil, acrylic, and print, the fruits of a seven-day monoprint project with Atelier Richard Tullis that turned into two years and 40 pieces of kinetic color journeys.
Fat bands of graduated hues, some mottled by the machine press of the monoprint process, lie alongside slick, skinny color lines brushed in acrylic or oil. They sway, they lean, but they continue unbroken from top to bottom. The lines are alternately opaque and luminous, depending on the medium and composition of colors. Some show up like rock veins, a mineral rust against palest blue. Others fall in watery ribbons, or rise into whitish shades the colors of clouds.
Initially, monoprinting left Lang feeling incomplete but curious about the textures it produced. White showed beneath the original colors, like washes. Patterns of the press and paper appeared under the paint. This luminosity excited him and he wanted to weave in his acrylics.
It is difficult to be in the presence of the result, this dynamic conglomeration of colors, texture, and line, without turning inward. The work evokes celebration in splashy orange, sunrise in tenuous pink, death as green reaches gray, black, plum. Yet Lang says the pieces "are not about something other than themselves." The artist calls his method "disciplined freefall"; though he paints his lines within a field of existing printed lines, he allows an internal process to take over. "I try not to bring too many ideas to the moment," he said. "I focus on an intuitive system, with logic and reason that is constantly shifting. I'm very focused about not being focused." The effect is at once raucous and soothing, not unlike jazz, and composed in the same improvisational way. And, like music, Hybrid Variations is likely to stir up memories and sensations you forgot were ever there.