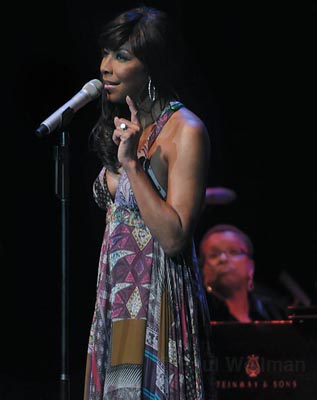 She can dress herself up as a jazz singer all she wants, she can scat (though it's rarely a good idea), and she can even swing the standards. But the fact remains that Natalie Cole is clearly a danceable R&B artist, a fact amply proved at the Granada last Friday night, where she inauspiciously opened the very first pop concert in the reconstructed vaudeville hall with "Fever," the song Peggy Lee used to stir up the Eisenhower years. It's going to be a long wait for fans of contemporary music, I thought glumly. Most of Cole's jazz-tinged covers, ranging from "What a Difference a Day Makes" to "A-Tisket A-Tasket" and even (gulp) Neil Young's "Old Man," were ordinary-nothing exploded from them, and the arrangements were hardly creative. You couldn't help but wonder what might be uniquely her coloration or mystical insight into these pieces. The answer: She seemingly did them because she could.
And of course that mere adequacy was underscored tragically in Cole's now-signature duet with her father-ironically on the song "Unforgettable"-which she performed as a kind of special effects spectacle with a movie screen, even ending the slightly smarmy number by blowing her papa a kiss as he cinematically looked down in pleasure. Worse, Cole's patter often transplanted us to Vegas. "And it goes a little something like this," she said, not once but four times. On the other hand, she did quiet a fan shouting out requests. "I thought I was doing a show up here," she said.
But the curtain between Cole and her fluid emotions evaporated when she launched into the disco years, with the 1976 hit "Mr. Melody," followed by "This Will Be (an Everlasting Love)." Suddenly, she was in her element, and the rest of the show became focused, though some of the theater's more aged clientele fled when the newfangled dance music started blaring.
The star of the evening, however, was the Granada, which proved itself warm and lucid, channeling loud sounds underlined by an insistent bass line and paved over with synthesized horns. Maybe some day vibrant young performers will fill the theater with intelligent, original, and sophisticated music. Until that day comes, people who remember poodle skirts and "Fever" have got themselves some swinging new digs where they can ponder that old everlasting love.