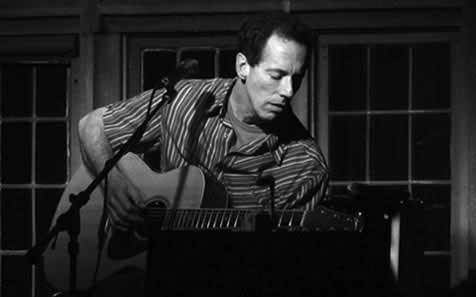 Once a month, an intimate congregation gathers to pay homage to the art of songwriting in what may initially seem like an unexpected location. And when these people get together, something truly magical happens.
The space in question is the side hall of Trinity Episcopal Church, which plays host to Trinity Backstage, an event that transforms the room into a coffeehouse, complete with homemade pastries and urns of java and tea. A dedicated committee of volunteers arrives early to arrange chairs and set up the space, and while people pile in, there is a lively atmosphere of socializing, snacking, and selecting seating spots. But when the evening's performer begins to play, a hush falls over the room. Here, after all, respect for the artist is paramount. "There is something special about the room and the exchange between the musician and the audience at Trinity," singer Peter Gallway recalled.
He would know; Gallway was the musician chosen by Backstage organizers and hosts Doug Clegg and Kate Wallace when they initiated the series five years ago. To pay tribute, he will be performing at the series' fifth anniversary evening, taking place this Saturday, March 29. Gallway has played the Trinity stage one other time since the series' inception and is often chosen as a contributor in the bi-annual showcase of performers "in the round" that Trinity holds at Christmas and Solstice. Even when he's not performing, Gallway is an audience fixture in the Saturday evening series; he raves about the quality of the singer/songwriters whom Clegg and Wallace bring to town and the intimacy that the unique setting provides. Gallway is a master musician, poet, performer, and record producer with 14 albums to his name and producer's credits for plenty more. His musical career spans more than four decades. He and Clegg met through their shared love of music when they both lived in New England, long before either one dreamed of relocating to the West Coast. In fact, it was Gallway's first Trinity appearance that introduced him to Santa Barbara and eventually influenced him to move here.
It's been fortunate for Santa Barbara. In addition to his musical talents, Gallway works as a marriage and family therapist, as well as the adolescent treatment program director at the Daniel Bryant Youth and Family Treatment Center.
He sees his roles as musician and therapist not as disparate but as connected through the idea of community. "Community offers us hope for transformation," Gallway explained. And he sees this belief embodied in the Saturday night coffeehouse series, making mention of the progressive humanitarian views of the host church and its congregation. This sense of community extends to the funds collected at the door: Proceeds from each evening (the cover charge is a $10 donation) are split between the artist and the church's community-based charitable projects. Everyone is a volunteer, from Clegg and Wallace to the people pouring coffee and the folks who arrange chairs.
A sense of community, a call for social change, and the politics of hope are some of the topics on the album Gallway is currently recording. Inspired by a trip to Mexico and the state of the world today, Gallway describes his new work as a departure from what he's done in the past-though he promises old fans will not be disappointed. Gallway will debut some never-before-heard work this Saturday evening, as well as feature selections from his musical catalogue. Gallway is also excited to have fellow musician and guitarist Jeff Pevar join him for Trinity's anniversary celebration. Pevar is in town to play for the recent Cash for the Coast benefit for Naples. He's also a regular fixture in the touring lineup for Crosby, Stills, and Nash-and Gallway can't stop talking about having Pevar accompany him.
Gallway's performance (with Pevar sitting in as special guest) is one not to be missed, according to host Wallace. If you listen to her rave about each year's lineup, it's something she says often. But her audiences seem to agree-she attests to the fact that it's the fans who often encourage her to bring back a certain musical act. In addition to the series regulars, Clegg and Wallace find new artists amid their circle of friends (they've been involved in the national folk music scene for decades), take the stage themselves, and scout out major festivals across the country. And their efforts have paid off in the form of Trinity Backstage-where music, community, and activism are served with cream and sugar on the side.
4•1•1
Trinity Backstage's Fifth Anniversary Show with Peter Gallway will be held on Saturday, March 29, at 8 p.m. at Trinity Episcopal Church (1500 State St.). Call 962-2970 or visit trinitybackstage.com.