Visual Arts
Over Rainbows and Down Rabbit Holes: The Art of Children's Books
At the Santa Barbara Museum of Art. Shows through June 15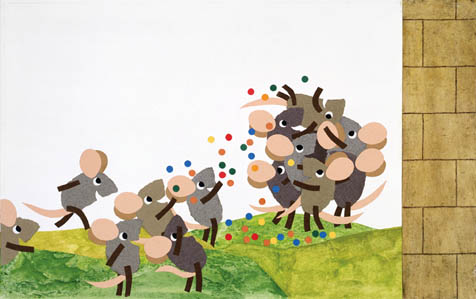 Last Sunday, I spent the morning wandering around SBMA's Over Rainbows and Down Rabbit Holes, an exhibit of children's book illustrations drawn from the collection of locals Zora and Les Charles. Despite my deep love for children's books (and films), or maybe because of my affection, I found the show a bit of a drag.
Let's admit, first, that a dozen masterpieces hang on these walls, including an overwhelmingly vibrant piece by Ludwig Bemelmans, the American author of the Madeleine series and a master second only to Matisse of sensuous, implying lines hung with smart, capricious composition on white space. There are also jewel-like pieces by Beatrix Potter and Ernest Shepard, illustrator of A.A. Milne's House at Pooh Corner. The show offers contemporary pleasures as well, including the great Chris Van Allsburg (Polar Express and Two Bad Ants) and my own favorite fable-maker, Leo Lionni, author of the profoundly perverse Frederick.
Despite these treasures, Over Rainbows and Down Rabbit Holes seems lazy in an almost negligent fashion. After these greats, the bulk of the illustrators hung seem arbitrary, with an inexplicably large portion of the show dedicated to fairly average talents like the treacly neo-classicists Leo and Diane Dillon. Beyond that are questions of the show's focus-it's even hung awkwardly at a level just below the adult eye, but not really low enough for real kids. And what's with the stodgy colors on the walls and the random arrangement of pieces? There is a half-hearted attempt to divide the show up into genres, although I had no idea that "Animals" was a significant mode of children's fiction.
Admittedly, it's mean-spirited to complain about a museum opening its doors to these artists-and to think that we saw it on Anapamu Street! But ask yourself, where are Dr. Seuss, or N.C. Wyeth, or even Don and Audrey Woods, who lived here for so long? The show of psychedelic poster art at the University Art Museum in fall 2005 was so intelligent and delightful; why shouldn't children's art be at least as fun and informative? Call me a wet blanket, but I wanted much more.