News
Costly Missile Defense System Dedicated at AFB
Vandenberg Hosts Star Wars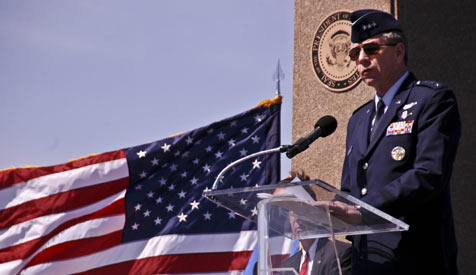 Amid the pomp of a military band, Lt. General Henry "Trey" Obering-director of the Missile Defense Agency (MDA)-dedicated the Missile Defense Site at Vandenberg Air Force Base last Thursday to former president Ronald Reagan, who initiated the current worldwide intercontinental ballistic missile defense system. Obering stated that long-range plans for his agency's program include the possibility of additional ground-based midcourse defense (GMD) interceptor missile sites-similar to the 21 at Ft. Greely, Alaska, and the three at Vandenberg-in Poland and the Czech Republic. President George W. Bush is currently traveling through Europe to promote the plan prior to this week's NATO summit in Bucharest, Romania.
Obering and Representative Trent Franks (R-Arizona)-a member of the House Armed Services Committee who also spoke at the dedication-praised the movement started by Reagan's historic "Star Wars" speech in March 1983, in which he laid out the tenets of his Strategic Defense Initiative, favoring the deterrent properties of an effective defensive missile system over the doctrine of mutual assured destruction-or nuclear arms race-in place at the time. "Today, it is appropriate that we name this missile defense system in honor of a man whose visionary leadership : made it all possible," said Obering of Reagan. "His wisdom is even more evident today. We hope to see a day when missile defense has made ballistic missiles obsolete as delivery for weapons of mass destruction."
Since its inception in 2002, the Missile Defense Agency has put into practice the ideals laid out by the Strategic Defense Initiative, by deploying the current 24 GMDs-which are operated by the Army National Guard's 100th Missile Defense Brigade-in conjunction with the U.S. Navy's Aegis guided missile cruisers, unit-based interceptors located throughout the world, and a complex network of radar stations. One other GMD is planned for installation at Vandenberg in addition to 10 more that the MDA wishes to place in central Europe.
"We have spent billions of dollars on this program and have little to show for it." – Representative Lois Capps
Although Obering and other supporters say that the system has been effective in "test after test after test," others view it skeptically. "We have spent billions of dollars on this program and have little to show for it," said Representative Lois Capps. "I'm very concerned that other priorities-like supporting our men and women in uniform and caring for wounded veterans-will get squeezed because of all the money we're spending on expensive, unproven programs like missile defense." Analyses by the nonpartisan Congressional Budget Office show that close to $100 billion has been spent on missile defense since 1993, with projected annual costs increasing to nearly $20 billion by 2015. President Bush tagged $10.4 billion for missile defense in his budget request for 2009, according to the Office of Management and Budget Web site.
Dennis Apel, a peace activist who has held regular vigils outside Vandenberg's gates for the past 12 years, maintains that the Bush administration's push to station GMDs in central Europe will be seen by Russia as an offensive move. "We still don't want missiles in Cuba," he said, "but we've got no problem putting them in Poland, right next to Russia." This is a view shared by Philip Coyle, a senior advisor at the Center for Defense Information who served as assistant secretary of defense from 1994 to 2001. "This divides NATO," he said. "Poland, in return for allowing missile defense sites, wants help strengthening its conventional military." Coyle also noted the low rate of success in tests of the system, saying that the computers driving it are not always able to distinguish enemy missiles from friendly aircraft, as occurred with the Patriot missile system-a component of MDA's program-during the Gulf War. "There have been 13 flight intercept tests [with GMDs] at Vandenberg and Greely over the past decade, and seven have been successful. Of the six failures, two of the interceptors never even left the ground."