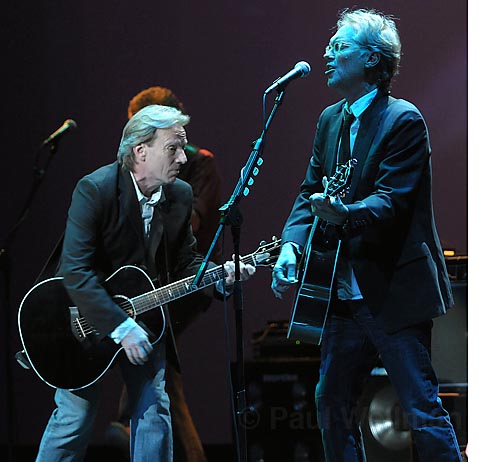 Dewey Bunnell and Gerry Beckley of the rock band America are two of the least dysfunctional, most considerate classic rockers you could ever hope to find. That may seem like faint praise, given rock's traditional associations with arrogance and self-destruction, but Sunday night's show at the Granada offered the best of both worlds, with swirling psychedelic pop and shimmering harmonies cloaking gentle lyrics and universal themes. These guys have been in the business since 1969, and they have recently gained some influential younger fans, in particular James Iha (formerly of Smashing Pumpkins) and Adam Schlesinger of Fountains of Wayne, who produced America's new record, Here and Now. The impact of these hipsters on their new friends has been subtle, not dramatic. There are no electroclash remixes or hip-hop cameos, but there are some interesting and appropriate guest appearances by such contemporary artists as Ryan Adams and Ben Kweller.
The original rap against America had to do with the way their single, "A Horse with No Name," sounded just like Neil Young to many listeners, and followed Young's hit "Heart of Gold" into the number-one spot on the charts back in 1972. Young's fans may have a point about America being derivative-they had another big hit with a song called "Sandman" that sounds a lot like his "Cowgirl in the Sand"-but they are hardly alone in that. At times on Sunday night America sounded like Crosby, Stills & Nash, the Beatles, the Beach Boys, the Bee Gees, and even the Everly Brothers, who gave the group their first big break.
The Granada shows great promise as a venue for rock music. America played an unusually wide-ranging set of styles and instruments, all the way from parallel strummed acoustic guitars and vocal harmonies to electronic keyboards and fuzz-tone electric guitar solos, all of which sounded great. The band seldom ventured outside their songbook, but that was okay, simply because of the number of hits they had to offer. And while there are still more cabinet placements to be made, America showed us that the fundamentals are definitely there for what one hopes will soon be an outstanding amplified music venue.