Living
Return of the Oak Moth
Tree Dweller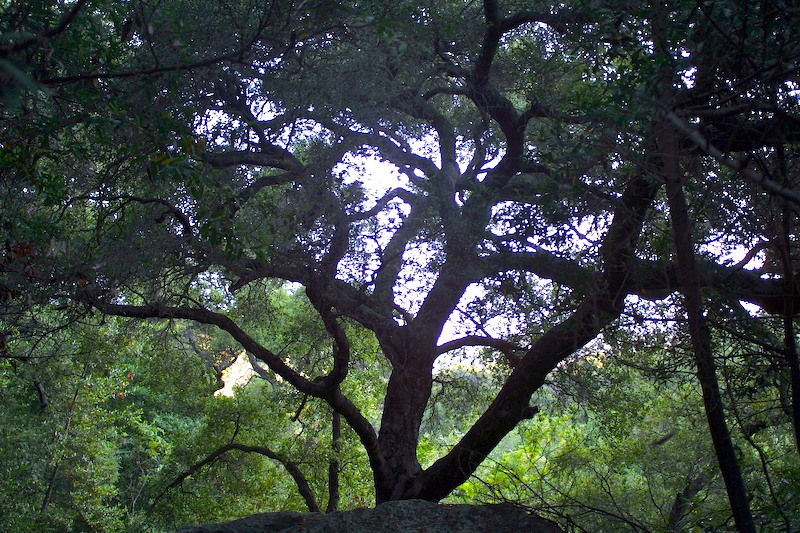 Ilive under a couple of oak trees. I would never willingly do so again. The leaves fall all year, with some peaks and valleys, but there are leaves coming down every day (and they have edges with little prickles that make going barefoot a trial). Acorns typically litter the ground in fall (also no fun to step on unawares). This year was a banner year, and they rained on my roof for four months; in fact, I think the last ones fell just last week. The pollen and old flower catkins are beginning to create a mess this week. But it is the frass (a fancy word for bug excrement) from the caterpillars of the oak moth that make a real mess. These tiny balls are literally covering every surface outside on my patio, chairs, tables, kids' toys, everything.
The oak moth (Phryganidia californica) is the adult of this insect. Like all moths, it must lay its eggs somewhere near a ready source of food for the caterpillars when they hatch. While they are not obligate on oaks (they will attack other hardwoods, too), they are an intimate part of the life cycle of the coast-like oak (Quercus agrifolia), the valley oak (Q. lobata), and, to a lesser extent, the coastal scrub oak (Q. dumosa). There are at least two cycles of growth (in our area, there may even be three) per year. The eggs of the final cycle can overwinter on the underside of the leaves to hatch when conditions are right. Oak moths are somewhat cyclical; one year they may be nearly nonexistent while, in years like this one, the trees are teeming. Some say they appear in hordes on an eight- to 10-year cycle, but that is not well documented. There is certainly abundant leaf growth on most oaks after last year's great rain totals, so there is plenty for the caterpillars to munch on this year.
Since oaks and oak moths have coexisted for eons, there is usually nothing we should or could do when such outbreaks occur. Mature, healthy oaks can be totally defoliated and still recover. Young trees and those already under stress from some other factor may not be as lucky. It behooves oak tree owners, then, to make sure that their oaks are in the peak of health to withstand such outbreaks. If your oaks have not been grown from youth in an irrigated landscape, do not water them in summer. If they have been incorporated into an irrigated area from a very young age, then continue to water them on the normal cycle that they were established with. Keep direct irrigation off their trunks and if at all possible, mulch the entire drip zone (out to the edge of the canopy of branches above) to encourage good feeder root growth.
Most oaks do not need pruning. Although it is part of their nature to drop twigs and even branches, unless there is a clear danger, allow them to do so naturally. If possible, leave them to decompose as they would in their native habitat (well, they are the ones at home here; we're the newcomers) and return nutrients to the root zone.
Back to that mess of oak moth larvae frass that is raining down on the patio right now; don't despair, and don't take it out of the root zone of the tree. Research has shown that the carbon, nitrogen, and phosphorus that are encapsulated in those recycled leaves is quickly returned to the tree after it falls to the ground. Much of the nitrogen and phosphorus is readily dissolved in the next rain and the carbon is rapidly utilized by bacteria and fungi in the soil to reenter the food chain. In fact, the response is nearly immediate, beginning within one day and extending out to as many as three months. The addition of frass actually stimulates the growth of the bacteria with the ready source of nutrients. One paper concludes, "These results and the relative frequency of Phryganidia outbreaks suggest that this herbivore has significant effects on the nutrient cycling beneath these trees."
One final note: Those caterpillars are a great food source for myriad other organisms. Spiders, big-eyed bugs, damsel bugs, lace wings, and other insects may predate them. Birds find them a tasty treat; Nuttall's woodpeckers and western bluebirds flit through the canopy eating the caterpillars. The white-footed mouse also consumes the hibernating pupae that the caterpillars form at the end of their own feeding cycle.