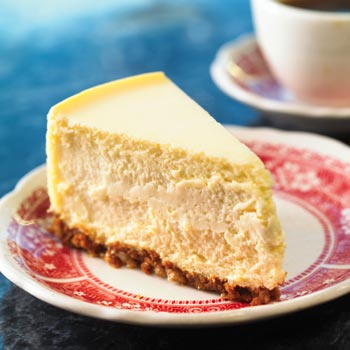 Grandma Margaret, or Mimi as we called her, made a delicious cheesecake loved by all. This secret recipe was the most popular item at the Backstage Cafe, a busy restaurant my brother owned in Solvang for a few years. Mimi's Cheesecake is not for the faint of heart or the lactose-intolerant; or first dates, for that matter, as it can be a bit messy to cut a slice. This is not a firm cheesecake, but a soft and creamy juxtaposition of slightly sweet and ultra sweet. Best served cold with a cup of English Breakfast Tea or black coffee.
Items needed: rolling pin, 9Ê° or 10Ê° pie plate (glass dish preferred), two medium-sized mixing bowls, fork. Happiness.
Graham Cracker Crust
20 graham crackers
½ lb melted butter
Cream-Cheese Filling
16 oz. cream cheese
½ c. sugar
½ tsp. lemon juice
2 whole eggs
½ tsp. vanilla
Sour Cream Topping
2 16-oz. cartons sour cream
2 Tbs. powdered sugar
1 tsp. vanilla
An hour ahead of time, set out cream cheese and butter so it will soften. Preheat oven to 250 degrees. Crush graham crackers finely with a rolling pin. Melt butter. Mix graham crackers and melted butter in the bottom of a pie pan with a fork. Press mixture thinly over bottom and sides of pie pan. In another bowl, mash cream cheese with a fork until creamy. Add sugar, lemon juice, eggs, and vanilla and mix well. Pour into pie shell. In another bowl, mix sour cream, powdered sugar, and vanilla. Pour over pie for topping. Bake 20-25 minutes at 250 degrees or until firm (do not cook much longer than 25 minutes). Chill overnight before serving, or make in early morning to be ready for evening dessert.