News
Senior Living Conflicts
What Does It Take to Get Good Nursing Home Care? Maybe an Ally Like Clint Baron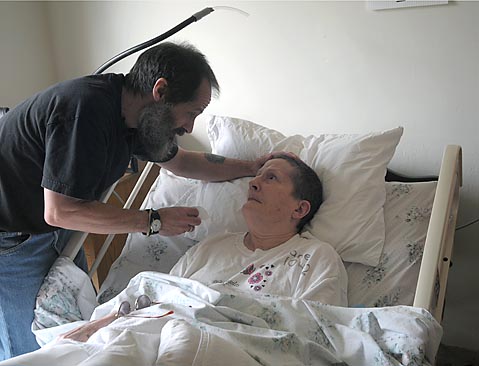 When Clinton Baron learned his beloved friend Jane needed around-the-clock care because her Multiple Sclerosis (MS) was advancing, he wracked his brain for alternatives, battled guilt, lost, then began looking at nursing homes.
Seven years later, Jane is 72 and still a resident of La Cumbre Senior Living Concepts, the facility he originally chose for her. Clint habitually butts heads with staff over nursing practices while Jane depends on Certified Nursing Assistants (CNAs) for every small act of daily living. Even so, theirs is an unlikely success story. With long-term care looming as a huge issue for retiring baby boomers, Clint and Jane's tumultuous experience here could be an object lesson in how to negotiate nursing home living-though the people running Senior Living Concepts would disagree.
I visited Jane last fall at Clint's invitation. Her room is nice. It has plenty of natural light, with a sliding glass door that opens onto a courtyard. She was in a wheelchair-and not an ordinary one at that, since it's high off the ground, its back reclined and padded with pillows. Her feet are in braces, supported on leg rests and permanently flexed-just one of the distortions MS has wrought. Jane regards me through wide-frame tortoiseshell glasses. I don't rate a smile, but her eyes are alert. Her body jerks involuntarily.
Since Jane arrived here in 2001, Clint has made a point of confronting the nursing home's staff and administrator on every shortcoming in caregiving he perceives-a practice that has not made him popular. His grievances include things like the 30 minutes that sometimes pass before a call light is responded to; the aides who he says deliver Jane's food and disappear, forgetting she can't feed herself; the inconsistent positioning of her body, which has to be at a 40-degree angle to prevent choking.
And then there was Jane's reported allegation three years ago that a CNA had touched her inappropriately-a transgression that does occur in nursing facilities. Clint pursued her accusation aggressively. Once he asked the head nurse why this individual had been assigned to Jane that day. Clint said that the man, overhearing the conversation, became verbally abusive, followed him into Jane's room in a physically violent manner, and rammed him against a closet door. Clint never succeeded in having the individual barred from contact with Jane.
Lander Warren, Senior Living Concepts' administrator, denies Jane was ever molested or that Clint was assaulted. "It didn't happen," he said. He adopts a tone of tried patience when Clint's name is mentioned, pointing to a binder full of communication between them. When pressed, he acknowledged that some of Clint's complaints have merit. "But many are way out there," he said, like the time Clint said there were bugs in Jane's room that scattered when he moved the furniture. A California Department of Public Health investigator came out but discovered only birdseed, Warren said. Clint countered that yes, there was birdseed in the closet, but the tiny white bugs were behind Jane's bed. "I went in and got Lander, and moved the bed, but they scattered. They fumigated the next day," Clint said.
Clint, 57, is a physically small, intense man. His long black beard, tinged with gray, lends the look of an urban logger. He'd shave it, he said, if Jane didn't like it so much.
Clint was in the Marines for seven years before quitting. He discovered a talent for working with animals and landed a job at a wild animal park in San Diego. There he worked with big cats and elephants. During a job interview at a private ranch in 1987, a tiger broke from its restraint and attacked him. Among other things, it bit through his hand and left him with a seizure disorder, though he can usually head them off by reducing his stress level.
Uncommon Love
Clint met Jane Hansen in 1998 when she fell in the bathroom of her one-bedroom Eastside apartment. In addition to the one side of her body that was paralyzed from MS, she'd broken her arm. Unable to get up, her only recourse was to scream for help. Across the street in his own apartment, Clint answered a knock on his door. It was a neighbor suggesting they investigate the screaming. The two men followed the sound until they came to a locked door. Clint decided to climb through a window.
Inside, he found Jane prostrate amid a ruined life. With grown children out of state and out of touch and no ties remaining with her parents, she was disabled and alone. Her apartment floor was littered with used take-out containers, her sheets were soiled, her wheelchair in need of repair. Clint and his neighbor lifted her from the floor, but only Clint remained to talk, eventually persuading her to seek care at St. Francis Hospital.
After Jane was admitted to the hospital, Clint returned home exhausted, relieved, and strangely content. He thought, "Thanks, God, for letting me do something." He didn't plan to see her again, but the next day found himself wondering how she was faring. Those wonderings took him back to St. Francis. "She was just a lonely person," he said. "She didn't have any family. I wanted to check on her."
He stayed with her for the better part of the day and they became fast friends. One year later, Jane's paralysis had spread to her whole body and doctors said long-term care was the only realistic option. Clint hated the idea but began looking at homes anyway. When he chose La Cumbre Senior Living Concepts, it was still Beverly La Cumbre, a facility that fell so far below standards in the late 1990s that criminal abuse charges were filed and purportedly motivated a nurse's suicide. Its owners, Beverly Enterprises, Inc., sold the place in 2001 to the nonprofit Helping Hands Sanctuary of Idaho, Inc., which renamed it La Cumbre Senior Living Concepts.
Clint chose Senior Living Concepts because they accepted Medi-Cal, Jane's only medical insurance, and because its representatives picked up Clint at his apartment and drove him home again after a tour. Unable to drive because of his seizures, the service made a big impression. "Wow," recalled Clint, "I thought, 'They're willing to go out of their way. They must really care about people.'"
At certain times during Jane's stay, so much hostility existed between him and the home's varying administrators, one went so far as to take out a restraining order on him-barring him from the property for two weeks. It happened the same day Clint attempted to get a restraining order to prevent the CNA he believed was abusing Jane from coming within four feet of her. The administrator's was granted and Clint's wasn't. After the restraining order expired, the administrator severely restricted Clint's visitation hours. Even though he was arrested by Santa Barbara Police for violating these restrictions-he said he just popped in to look at her records-Clint claims the restraining orders had been officially lifted by that time. Despite these clashes, Clint said he sees no point in moving Jane because the care in other nursing homes would be the same.
On a bright March day in 2002, Clint kneeled on the white linoleum of Jane's room and proposed. Jane said yes. He admits the administrators had been kicking him off the premises for his constant queries as to why Jane hadn't been cleaned, who was going to feed her, and why no one had answered her call light; and that once he became Jane's husband, he could no longer be kept from her (with the exception of the restraining order incident). But he swears he married her only for love.
"I married her because she's a beautiful woman and I love her," he said. "I loved her from the day I met her." He said he'd wanted to marry her before 2002, but had been told by the administrators it was illegal.
The wedding took place in Jane's room, she in a new blouse Clint bought her, he in a rented tux. The rector (Clint never asked his denomination) got $100 for the ceremony. Clint's brother flew in from Oregon to attend.
Inspector Knows Best
Clint may be hyper-vigilant about Jane's care, but then again, American nursing homes aren't exactly known for quality. As a rule, they exist to generate profits and operate on wafer-thin budgets. Plus, the industry has steadfastly resisted all state and federal attempts to raise standards, according to Consumer Reports and watchdog agencies like California Advocates for Nursing Home Reform (CANHR).
Annual inspections of skilled nursing facilities are public documents and Santa Barbara County's Long-Term Care Ombudsman's office maintains copies of them as well as citation reports, complaint investigations, and other documents related to Santa Barbara County's 197 long-term care facilities. The file on Senior Living Concepts is several inches thick and portrays a home that is struggling. Its 2005 inspection found it below minimum standards in 46 ways, known as deficiencies. (The statewide average is 20.) Some shortcomings were picayune, like the bedrooms that were less than 80 square feet per resident. But others were meaningful. An old man's antipsychotic medicine was discontinued by mistake and resumed only after state inspectors pieced together the fact that he'd become progressively isolated and lost 10 pounds. An old lady missing teeth on one side struggled to chew. Although she'd lost 23 pounds in her four months at Senior Living Concepts, no one had arranged a dentist appointment.
Warren, the administrator, acknowledged that the 2005 survey had been particularly bad and said the administrator in charge then was fired as a result. Warren took over that December, and the next survey, in 2006, found 23 deficiencies. But the home also received three citations that year, incidents in which serious harm occurred or could have occurred, including the time a physically unstable woman fell and broke a hip after being left alone in the bathroom. Other homes receive citations, too. According to CANHR's Web site, Samarkand got one in 2006 and two in 2007, though of the less-serious Class B variety; Val Verde received two Class A citations in 2007.
Warren said the facility's management company, privately held InnoVenture Healthcare Management, Inc., is working hard to raise standards at Senior Living Concepts. Consider the $17,000 computerized call-light system that was installed in 2006, a system that actually announces the name of the resident who has called in case their aide is in another part of the building. It also tracks how long the light remains on before being responded to. A snack cart brings food to residents in the afternoons. Before, snacks were simply made available. There are candlelight dinners for residents and their family members once a month instead of just quarterly. And a super-sized flat screen television has been installed in the recreation room, for "Blockbuster" nights every weekend.
Away, but Not Forgotten
Representatives from the county Long-Term Care Ombudsman's office, which represents residents, wish Santa Barbara's skilled nursing facilities were better staffed and that families stayed involved. You don't have to go to the facility everyday, said one Ombudsman representative. And you certainly don't have to be as ferocious as Clint. But remaining a part of someone's life alters the way he or she is viewed by staff. That feeble individual who can't chew or walk is no longer simply a mine of endless demands but a person who is loved by others.
Have Clint's complaints and unswerving presence made Jane the nursing home equivalent of the squeaky wheel? Are the nursing assistants-who make between $14 and $17 an hour, work double shifts, and can juggle as many as 12 residents at a time-more alert when looking out for Jane? Warren says no. "We work particularly hard with everybody to give them good care," Warren said. "Clint's advocacy, his love for Jane, brings him here more often. Therefore, with our care and his care combined, she gets very good care. But we don't pick one over the other."
Frosty Friends
Since Warren took over, an unofficial truce between Clint and management has developed. But given the extent of Jane's needs and the sheer number of people at the 156-bed facility, their dealings will never be smooth. Take a choking incident this December, for example. Returning to Jane's room one evening after running an errand down the hall, Clint saw a nurse with the medication cart outside her door, talking on her cell phone. Clint thought Jane must have just received her medication, or was about to receive it. According to Clint, upon entering the room, he saw that Jane was struggling to breathe. Her face was red, he said, her eyes bulging and watering. Putting a finger down her throat, he removed a bunch of goo, then grabbed the small suction machine that is kept beside her bed and vacuumed the rest.
Warren acknowledges that the nurse should not have taken a call on duty, but strongly denies that Jane had been choking. The fact that there was no residual material in the top of the suction machine right afterward casts doubt on Clint's story, he said. But Clint claims to have cleaned out the machine immediately. A state inspector, who arrived the following day, said that the top of the machine can't be removed easily, so Clint couldn't have cleaned it out. This remark elicited a derogatory comment from Clint-he called the inspector an idiot-for which he apologized, in writing.
Meanwhile, the relentless march of MS chips away at Jane's physical self. Clint continues to show up every afternoon. He reads the newspaper to her, he said, and tries to make her laugh.
In the few moments I had alone with Jane, I asked her if she was glad Clint was around so much. Her answer required some effort, but contained no ambiguity. "Oh yes," she said. "He's my love. He's my life."
California's Department of Public Health is still investigating the choking incident.
4•1•1
To file a complaint with the California Department of Licensing and Certification, which regulates nursing home quality, call 604-2926. Or contact the Santa Barbara Long-Term Care Ombudsman Services of Santa Barbara County Inc. at 967-0499.
To find out about nursing homes in Santa Barbara County and their quality, contact the California Advocates for Nursing Home Reform at canhr.org.