Dance
Avant-Garde Dance Duo Eiko and Koma Visit
We Forget We Are Human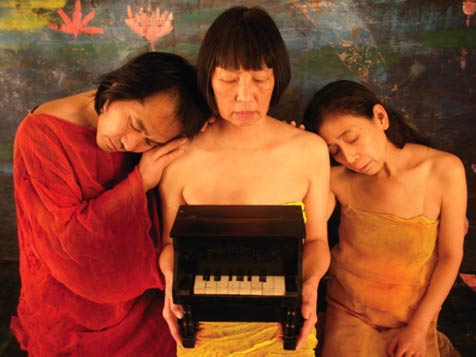 Few dance styles have inspired as much confusion and outrage as Butoh, the avant-garde theatrical art form created in postwar Japan by dance artists Tatsumi Hijikata and Kazuo Ohno. In the first Butoh performance in 1959, homosexuality was a predominant theme, and one of the performers smothered a live chicken between his legs.
Though the art form is not widely known in Japan today, many Westerners are at least marginally familiar with Butoh, which often incorporates slow, stylized gestures, grotesque facial expressions, animalistic movement, long periods of silence, and white body paint or rice powder that coats the skin.
Among those who studied under Kazuo Ohno in the 1960s and '70s were Eiko and Koma Otake, two students of politics and law who became interested in Butoh as a venue for political expression and social commentary and soon broke away from the master teacher to pursue their own artistic path. Their interest in avant-garde dance forms lead them to Hamburg, Germany, home of Neue Tanz, and then to Amsterdam. In the mid 1970s, the married couple moved to the United States, where they became known for their exclusive artistic partnership and abstract, evocative, and haunting works.
Their latest work, Mourning, is a collaboration with musician Margaret Leng Tan, another first-generation Asian American and avant-garde performance artist whose work the duo has admired from afar for years. On Thursday, May 1, they bring Mourning to UCSB's Campbell Hall. I spoke to Eiko on the phone from her home in New York City last week.
What drew you to mourning and grief as a theme? You know, that's what we've always been doing. It's something that's always been there in our work. I think people have always mourned, and that is a good thing. But somehow socially we have decided it's not a good thing. Often we are hurried, and told, "Its time to stop crying. Move on, go shopping." Mourning is really not a very capitalistic behavior.
As artists, we are dealing with how human society has been changing the landscape. Somehow it came together in a quality of movement-I'm calling it "sustained mourning." It's not a negative sort of grief; it's a positive sort that recognizes our fundamental need to mourn; to remember, to acknowledge what we used to have. There's nothing wrong about us being sad about these things.
How did you select the music for this work, and how did you choose Margaret Tan as a collaborator? Margaret is an amazing, amazing artist. She is a pianist, but she is beyond a pianist. She has such a vision, a connection to contemporary work. When she first came to talk to me about this collaboration, we went to her house, where she has three Steinways, and she played us some music. We reacted strongly to the pieces we ultimately chose-John Cage, Somei Satoh-but we basically denied it at first. We said they were too powerful, too dense, too complex. But after trying a little lighter music, we kind of came back to it.
You often perform outdoors in public spaces, as opposed to in a theater. What does outdoor performance make possible? Well, it's a very different thing. Often we do outdoor performances for free. They can last three hours or 30 minutes, depending on where we are and how people are gathering. It's almost impossible to impose what is generally taken for granted in theater: a beginning, middle, and end. I can't control the way people come and go. So it almost deconstructs what you consider the work. Have only the people who saw the entire 30 minutes really seen our work? What about a kid who came for eight minutes and left; did he not see the work? What about the people who saw a few minutes and didn't like it, but remembered it later? Or the people who see the same space after we have left the city and they remember the piece, and that place feels different because some strange things happened there? So that's a very different effect.
But, also, I am a performance artist. I love the theater, when people come and I have their commitment-tonight they have committed themselves to be with Eiko and Koma. So I like to have both. And in having both we are kind of raising the question, why are the outdoor performances free? Does it mean they have less value? Sometimes people confuse price with the value of the thing itself. I want to believe what really happens is priceless.
Anything else you'd like your audience to know, especially those who don't know your work? Number one, please come. That's a sincere invitation. I really like people to come to try it. There's no guarantee whether they will like it. But all three of us believe that this piece is moving. I believe people are ready to be touched. They come because they want to be moved. I hope Mourning moves the audience to remember whatever they want to remember-I love it when people say, "I feel like I'm remembering something, but I have no idea what it is."
Also, some of our movement is very much not human, but more animal. Hopefully that will open up some audience minds to the idea that sometimes we can forget that we are human, and by doing so we can become more human.
4•1•1
Eiko and Koma and Margaret Tan will perform Mourning at UCSB's Campbell Hall, Thursday, May 1, at 8 p.m. For tickets or more information, call 893-3535 or visit artsandlectures.ucsb.edu.