News
Chumash Dictionary Breathes Life into Moribund Language
Ancient Words Made Anew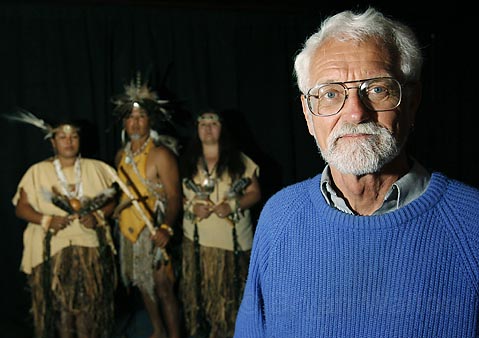 Thought to be dead for more than 40 years, the last surviving branch of Chumash languages was merely dormant. For the past several years, Richard Applegate, a linguist hired by the Santa Ynez Band of Chumash, has been working with tribal elders and five apprentices to teach them the language that he unearthed while completing his doctoral thesis at Berkeley in the late 1960s. Applegate recently completed a 4,000-word dictionary, complete with color illustrations, to be used by classes on the Santa Ynez reservation, or, he hopes, by anyone who wants to learn more about this language.
Called Samala, it is one of six Chumash languages spoken by native people living in Central and Southern California at the time of first European contact. The last fluent speaker died in 1965, but the work of John P. Harrington-who for 40-plus years worked to record Native American languages as the head of the Smithsonian's Ethnology Bureau-survived. More than a million pages of phonetic notes on 11 languages, including Samala, also known as Inese±o, remained in boxes. Although most of Harrington's work on Chumash language had been completed before World War I, the meticulous notes and recordings left by Harrington provided the basis for the dictionary. "What an amazing journey it's been for me," said Applegate. "From sitting in a basement in Berkeley with all of those old manuscripts to actually speaking [Samala] with tribal elders and seeing them actively involved in learning it."
The 600-plus-page dictionary, which was unveiled at a ceremony at the Chumash Casino's Tribal Hall in Santa Ynez last week, has been a hot seller so far, with nearly 100 copies sold the first night. Although the first run of books is reserved for members of the tribe, copies are slated for delivery to local schools and libraries in the near future. The five apprentices who worked with Applegate will be responsible for passing on their linguistic traditions to others in a series of classes offered on the reservation. "They're natives and have a huge passion for learning this," said Applegate. He also noted that the road to revival for this language is still long. "At this point, there isn't anyone who's fluent. I'm probably the closest thing there is to that, but I'd have a hard time if I were plunked into a Chumash village 200 years ago."
Applegate's studies show that Samala Chumash is about as similar to the other five branches of the language as Italian is to Portuguese or Spanish. "It's believed to have deep roots in California," said John Johnson, the curator of anthropology at the Santa Barbara Museum of Natural History. Punctuated with a series of pauses known as glottal stops-such as those uttered in the English expression "uh-oh"-the language's words can have many meanings. One word, ma, can mean "the" or "rabbit" depending on its pronunciation. Johnson said that, based upon archaeological evidence and changes in the linguistic families that were documented more recently, the Chumash languages are thought to have been in use for at least 5,000 years.
Samala includes insults as well, said Applegate and Johnson. The Chumash culture also was very straightforward about bodily functions, so, unlike English, those descriptive terms weren't used in a derogatory manner. Many words described family bonds, however, marking the importance of family ties. "The biggest insult was to name a deceased ancestor out loud in someone's presence," Johnson said.
"This is a really great example of how a tribe can invest their earnings into preserving their cultural heritage," said Johnson of the band's support of this project. "A lot of tribes are doing this, but this is unique because the tribe is actually financing a dictionary." Tribe spokesperson Frances Snyder agreed. "It's definitely a milestone in our tribe's history," she said. "It's something we can pass on to our children and grandchildren."