Cover Story
Five Candidates Vie for the County's Hottest Supervisorial Seat
Rounding Third
With Santa Barbara County facing a budget disaster, with developers constantly threatening to take over the Gaviota Coast-most immediately the 485-acre Naples parcel-with the state forcing housing mandates on the county, and with the Board of Supervisors scheduled to begin a redistricting process in 2011 that could forever change the political landscape, five candidates for 3rd District Supervisor are running to win an understandably hot seat. In fact, this could be the most important county election ever.
Because the district embodies the classic ideal of Santa Barbara County-with pastoral beauty, small towns like Los Olivos and Solvang, a great university in UCSB, and miles of open land and Pacific vistas-it's not surprising that the 3rd District has long been the epicenter for some of the county's fiercest land battles. Things have really heated up in the last 20 years. When the 1990 census revealed that the county's population had more evenly spread out between the northern cities and the South Coast, the Board of Supervisors redrew the county lines to reflect that shift, turning the 3rd District into a veritable teeter-totter. The seat went back and forth between candidates who represented the more environmentally concerned anti-growth South Coast, and North County candidates who were pro-business and -growth.
For 15 years, from 1977, Bill Wallace represented the district with strong support from the more heavily populated Goleta and Isla Vista. But in the 1992 election, after redistricting, the seat very narrowly-by two votes, a Superior Court decided-went to Willy Chamberlin, a North County rancher. The decision was reversed after an appeal, and Wallace returned to office two years later. Things have gotten rougher ever since. In 2002, former sheriff Jim Thomas led a well-financed recall attempt against Wallace's successor, Gail Marshall. He lost, but hostilities between the two camps worsened, culminating in a 2006 countywide election to decide whether to end the fighting and just split the county at Gaviota. This went down to defeat, garnering only 17 percent in support. But these instances illuminated the bitterness solidifying between two groups living in the same district with very different psychological outlooks. It's not just a difference in political views, or geographical locations; it's a difference in a way of life.
For one brief moment, peace raised its unfamiliar head. In 2004, now-Supervisor Brooks Firestone ran on a campaign to serve as a bridge between the North and South County. "My perception of the county four years ago was that we were not in a good situation," Firestone explained. There's a lot of debate about whether he was able to succeed during his term in office. But since he announced in September 2007 that he wouldn't be seeking reelection, this race seems to be shaping up along the same old lines. Three of the five candidates-Dr. David Bearman, a South Coast physician who sees a lot of support from Isla Vistans; Buellton City Councilmember Victoria Pointer; and Santa Ynez School District's board president and 2004 Firestone opponent Steve Pappas-could be viewed more as geographical candidates, each coming into the race from specific areas of the county with support in those regions. But the two current frontrunners of the race-former Firestone aide David Smyser for the North County and former 2nd District Planning Commissioner Doreen Farr for the South-are already fighting the old political battles. There's no denying the political establishments have thrown their weight behind the two. Farr's endorsements include Rep. Lois Capps, supervisors Salud Carbajal and Janet Wolf, and former 3rd District supervisors Gail Marshall and Bill Wallace, while Smyser's list has the names of North County supervisors Joe Centeno and Joni Gray as well as Firestone, Chamberlin, and all the mayors of the North County cities.
The other candidates say electing either Farr or Smyser will continue the animosity and divisiveness that has been staining the 3rd District for years. Both have come under fire for avoiding recent forums that may be hostile to their views. Smyser, explaining it "just won't fit into [his] calendar," skipped out on a well-attended forum organized by several community groups in the North County, "giving the middle finger" to the Santa Ynez Valley, as one person put it. Farr missed a radio forum on the county's right-wing watchdog Andy Caldwell's weekly show. She explained she didn't want to participate in a debate moderated by someone who "has already endorsed or expressed extreme bias or disrespect toward one or more of the candidates," as had Caldwell. Despite skipping out on the forums, Farr and Smyser have had the ability to raise more money and resources as a result of the powerful support they've received. But will that translate into votes come June?
The 3rd District race for many months has managed to fly under the radar among voters. Because California moved its presidential primary to February, the 3rd District, along with the 1st and 4th supervisorial elections in June, has almost gotten lost in the national campaign fanfare. Only a few weeks ago had the idea really begun to hit the people that, yes, there is an election. Campaigns are just gearing up, absentee ballots have been mailed out, and Election Day is less than a month away. Prognosticators are predicting a low turnout, perhaps the lowest ever in a supervisorial race.
There are just over 40,000 residents registered to vote in the 3rd District, with a slight edge to Democrats in the number registered. In 2004, 23,045 voters came out to the polls. This year, some suggest the number would be closer to just 15,000 when all is said and done on June 3. While it seems like a long shot that one candidate will gain more than 50 percent of the votes to avoid a two-person runoff in the fall, one just never knows. Many thought it would be difficult in 2004, when Firestone gained nearly 54 percent of the vote. All board races are nonpartisan, but it's inevitable that sides will be taken. Three registered Democrats (Farr, Bearman, and Pointer) will make it difficult for one to win outright in June. Smyser will be helped by two statewide propositions on eminent domain, which could lead to more property rights activists and conservatives showing up at the polls. It is unclear if that will be enough to help him garner a June victory. If Smyser doesn't win this summer, there's a big block of voters-most left-leaning-in Isla Vista ready to hit the polls for the November presidential election, which could mean trouble for him. Whether Isla Vista (June 3 is during UCSB's dead week between classes and finals), or any other block of voters, for that matter, will be awakened enough to make a difference in the June election remains to be seen.
The Candidates
Steve Pappas
Pappas, 47, owns Vocational Trends and Employer's Advocate Services, which operate in the workers' compensation industry. In 1991, he and his wife Lori moved to Los Olivos, where they have two sons. He started in public service when a neighbor knocked on the door at his farm six years ago, informing him of a quiet meeting taking place at a church down the street. A developer was holding a quiet "community meeting," informing those present about plans to build 100-150 condominiums at Montanero Farm. The community showed up in force to the meeting, all pledging to oppose the project. Following the meeting, a small group of people, including Pappas, decided to form an advocacy group they called POLO (Preservation of Los Olivos). The group was eventually able to purchase the land from the developer, and it remains a farm. This was an example of a "bait-and-switch policy" the county maintains, said Pappas. "Nothing seems to be transparent," he said. "The public doesn't seem to feel like it knows what's going on." From there, Pappas, who ran against Firestone in 2004 and garnered only 6.5 percent of the vote, went on to be the executive director of POLO and POSY (Preservation of Santa Ynez) from 2005-2007 before stepping down to run for supervisor. Pappas has opposed the expansion of gambling at the Chumash Casino and appealed the application by the Chumash to annex 6.9 acres of land out of county control. His opposition to the Chumash proposals will have a positive impact in the North County, where the casino's growth generally has been unpopular. But his campaign is not well-financed, making it difficult for him to get his message out beyond the Valley.
Doreen Farr
Farr, 56, worked as a planning consultant with the City of Goleta at the beginning stages of its incorporation in 1992, helping to transfer planning permits and cases from the county's purview to the city's. She was also the co-owner of the Goleta Valley Voice newspaper with her now ex-husband. Farr became involved in public service when one of her three sons was hit by a car while riding his bicycle near the corner of Cathedral Oaks Road and Patterson Avenue, which, at the time, had no sidewalks. He recovered, but the incident pushed Farr, who had longed for sidewalks in the area for some time, over the edge. She began to organize local families and contacted the county's Public Works Department, which said the area didn't meet the warrants for sidewalks. Farr appealed that decision, and eventually was able to get the supervisors to agree unanimously. In Goleta, she served as the first president of the Patterson Area Neighborhoods Association, and was a 2nd District planning commissioner from 1999-2002. Since moving to Solvang in 2004 after living in Goleta for 21 years, Farr has been president of the Santa Ynez Valley Alliance, a group dedicated to protecting the rural character of the Valley. Farr has come under fire from some due to her involvement in incorporating the City of Goleta because of an agreement the city formed with the county. The agreement, in which the city gives the county a percentage of its tax revenue-currently about $8 million-is hindering the city's ability to get on its feet to provide services. But Farr, along with those involved at the time, has said she wasn't involved in the decision to make the deal.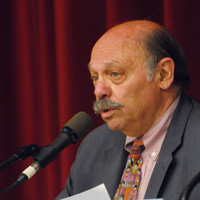 David Bearman
Known for his sometimes feisty and aggressive attitude, Bearman, 67-who has been in the district longer than any other candidate-lived in Isla Vista for four years before moving to Goleta in 1983. He first moved to the district in 1970, but lived outside it for eight years. His wife is a career counselor at UCSB, while his son is a freshman at Dos Pueblos and his daughter goes to school at UC San Diego. His resume is extensive, and he has served on the Goleta Water Board, Goleta West Sanitary District, and a bevy of other committees and commissions. He has more experience in elected office than any other candidate. "I believe I know how government is run better than any other candidate," he said. Bearman is perhaps best known for his advocacy of medicinal marijuana. He currently practices medicine, catering to many medicinal marijuana patients, and is considered one of the most knowledgeable physicians in the U.S. when it comes to the subject. But his advocacy has come under fire from some of his opponents, who say he is only a one-issue candidate. Bearman has been busy trying to stir up voters in Isla Vista, where the good doctor may make a good showing. Bearman used to sit on the I.V. Community Council and founded the I.V. Medical Clinic.
Victoria Pointer
Pointer, 53, who was born and raised in Santa Barbara, moved with her husband, Michael, to Buellton in the early 1980s after not being able to afford a home in pricey Santa Barbara. Michael works as the director of environmental services at Vista del Monte, a Santa Barbara retirement community, while Pointer has been employed as the staff and student support specialist at the Santa Barbara County Education office since 1990. The mother of three grown children, Pointer worked to form an elementary school band booster club, raising $30,000 for uniforms the children still use today. She first became involved in public service following the incorporation of Buellton in the early 1990s. When the first City Council election rolled around in 1991, Pointer ran and won. "I always enjoyed local politics," she said. "I knew I could do the job in Buellton." And she's been doing the job ever since. Pointer never had a burning desire to aspire for higher office, but as she watched people enter this election, she realized she had something different to offer, that she could fill a need none of the others could. "If you want someone like [former 2nd District Supervisor] Susan Rose, then vote for Doreen Farr," Pointer said. "If you want someone like Brooks Firestone, then vote for Dave Smyser. If you want someone neutral and without strings attached, vote for me."
David Smyser
Smyser, 53, has three children, one of whom is currently serving in Iraq. He first moved to the county 11 years ago with his wife of 30 years, Sandra, who is currently the superintendent of a school district in Colorado. Smyser, who does work as a land-use attorney, was Firestone's chief of staff for two years. He was elected to the Solvang City Council and before that served on its Planning Commission. After working with Firestone, he agreed to fill in for the 3rd District planning commissioner who was retiring. "His legal strengths are in mediation," Firestone said of his handpicked successor. "He brings people together. He listens to people, and I like that." Smyser has said he would continue the work Firestone began, specifically in Isla Vista, an oft-neglected portion of the district. Smyser cited a year-old poll that suggested Firestone, who has contributed $10,000 to Smyser's campaign, had a 65-70 percent approval rating among county voters.
The major controversy of the race, so far, has been some of Smyser's campaign contributions. His seven largest contributions-all for $5000-have come from out-of-county entities. One was from Alvin Dworman, owner of Bacara Spa & Resort. The others all had connections to Dworman. He says he has no problem with them because they represent the tourism industry. "I support tourism as one of the three main prongs in the county-tourism, sales tax, and property tax." In the next round of contributions, Smyser received several more $5,000 checks from out-of-town interests. These included Harold Simmons, a Dallas-based billionaire ranked among the top 50 wealthiest people by Forbes magazine; Philip R. Taylor from Atherton; and Brian Prinn, a Corona del Mar investor. None are thought to own property currently in Santa Barbara County.
The Issues
The Budget
The county is feeling the trickle-down effect of the state's estimated $20 billon deficit. Services the county currently provides are in danger of being cut, and CEO Mike Brown has proposed 5 percent across-the-board cuts. Though the winner of June's race won't take office until the next budget cycle, money woes are expected to continue. Both Pointer and Smyser have experience on a City Council overseeing budgets, and Pappas is currently the president of the Los Olivos School District's board, which oversees two schools and $6 million in revenues. At an April 30 forum, Pappas said he would cut the management fat in the county and eliminate Brown's position. All dislike the idea of across-the-board cuts. Pointer suggested increasing revenue streams through possibly taxing oil or charging for parking at county beaches. Smyser proposed increasing tourism through a possible convention center in the North County and building a business park outside of Vandenberg Air Force Base. Each of the candidates agree that public safety-whether in the form of police and fire or mental health services-must be a priority for the county.
Redistricting
The new supervisor will be involved in the redistricting of the county in 2011. While certain data won't be available until the 2010 census, the general agreement is that the North County is growing, and a population shift could mean that the 1st, 2nd, and 3rd districts would creep northward. But Dr. Bill Watkins, executive director of UCSB's annual Economic Forecast, said the population growth in the North County during the first half of the decade has slowed considerably. So the shift will not be as great as originally anticipated, he said.
There have been two significant shifts in the two most recent redistricting sessions, which happen every 10 years. In 1991, the Federal Prison in Lompoc was moved into the 3rd District. While that provided a bump in population to the district, it didn't change the number of eligible voters, since prisoners aren't allowed to vote. In 2001, Vandenberg Air Force Base was moved into the district. Although those stationed at the base are eligible to vote in the district, many remain registered in their hometown. Conservatives saw those moves-made with Gail Marshall in the 3rd District seat at the time-as power plays by environmental South Coasters to beef up populations in North County districts but keep the vote count down. "The first redistricting was a sham," the Coalition of Labor, Agriculture, and Business's Andy Caldwell said. "They gerrymandered it to boost the numbers in the 3rd District even though those people don't vote."
Now, Smyser is suggesting moving Isla Vista out of the 3rd District and, most likely, into the 2nd. That would mean the 3rd would have to take in more of the North County to maintain a population balance among the five districts, possibly ensuring it becomes a conservative vote for the next 10 years. Smyser's reasoning for the shift is that UCSB students aren't in touch with the 3rd District. "When I talk to students at UCSB, they're more interested in having their voices heard on State Street than Solvang," Smyser said. Exactly how to split up the 1st and 2nd districts in light of that move would have to be determined during redistricting hearings, he said. None of his opponents other than Pointer agree, and most don't envision much change when redistricting rolls around. Farr said she'd have to wait to see what census data indicated before "talking about making wholesale changes to the boundaries." However, Bearman, calling Smyser's idea "shortsighted and incorrect," said, "The number-one reason I ran was to put this seat in the column of reasonable environmental forces." While he doesn't think redistricting is as big an issue as some have made it out to be, Firestone doesn't necessarily think Smyser's idea for Isla Vista is a viable one. "I don't see how that computes," Firestone said. "What would the 2nd District give up to accommodate that population?" And South Coast enviros are concerned about the shift.
Gaviota Coast
Residents across the district are in agreement that the pristine coastline should be protected. "Everyone wants to maintain the Gaviota Coast as it is today," Smyser said. But supporters of other candidates point to Smyser's October 2006 Planning Commission vote to approve a 13,333-square-foot, single-family luxury home on 17 acres of ridge-top land at the southern end of the Gaviota Coast. The decision came with an agreement from the property owners to relocate the project 20 feet back and to change the size of an earthen berm, which would hide the house from the view of Highway 101. "The truth of the matter is I never voted to approve the project," Smyser said recently, explaining that during the hearing in question only the berm compromise was discussed. But tapes and meeting minutes indicate that by voting as Smyser did for the change, he in fact did overturn county staff's decision to deny a land-use permit to build the home. According to environmental lawyer Marc Chytilo, "They all say we want Gaviota to be saved, but where the rubber hits the road, what are you doing about it?" Farr's supporters contrast Smyser's decision with Farr's consistency on the Planning Commission.
In Naples, Vintage Communities of Orange County has an application pending with the county to build as many as 72 large homes. Pappas, who doesn't want to see any development at Naples, said he doesn't believe the county is working hard enough on the possibility of a Transfer of Development Rights (TDR) program, which could take those large units out of Naples and place them in a more urban setting in Santa Barbara or Goleta. "We need to develop a TDR program that's real and authentic, not political," Pappas said. "We need to find the balance between the property rights of people and the desire of the community to preserve." Pointer called a TDR program a "very practical concept in terms of saving the coast," while Bearman said he would urge the board to fight the project at the Coastal Commission and use "all the existing tools and policies," including TDRs, to ensure Naples is not developed. Farr said the county must use every tool and policy available. Other options include finding money to buy the development rights, like citizen groups did with the Ellwood Bluffs. Smyser said TDRs are "certainly something we want to look at" but the reality of the situation is that Vintage Communities' Matt Osgood has already seen approval on the validity of his lots from the state Supreme Court.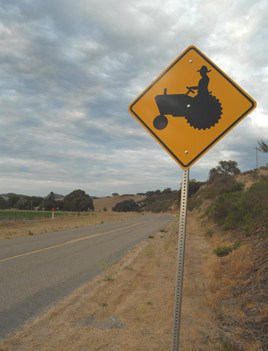 Ag Land
Along those lines, protecting agricultural land throughout the county is a priority for the bunch. With the tough financial times ahead, Farr said, it will be tempting to zone for dollars some of the rural areas of the county, or "fiscalize land use." Chamberlin said Smyser is the best candidate ready to handle agricultural concerns in the county. "He believes in land-use zoning, but also working with property owners to do what the zoning allows us to do," said Chamberlin, calling Smyser a responsible planner. "Santa Barbara County is not an urban county, it's a rural county, and ag lands need to be protected," Farr said. All the candidates believe there needs to be a balance between regulating ag land to protect it and ensuring farmers have rights.
Housing
None of the five candidates support challenging the mandates handed down by the state when it comes to housing. All are in agreement that the system is flawed and broken, and that housing in the county should be decided by local communities, not decreed by the state. "I believe land-use decisions need to be made locally," Smyser said, adding he supports the community plan process throughout the county. However, challenging the mandate law could open up the county to potential lawsuits, or a moratorium on all building in the county. "The best plan is to comply with the law and voice our objections in Sacramento," he said, summing up others' approach to the state mandate. Even so, all the candidates agree there is a need for workforce housing.
Correction from Chris Meagher: Steve Pappas and David Bearman have both said the county should challenge the housing mandates, recommending the county team up with other discontented counties to file suit.