Dance
Diavolo
At the Granada Theatre, Saturday, May 10.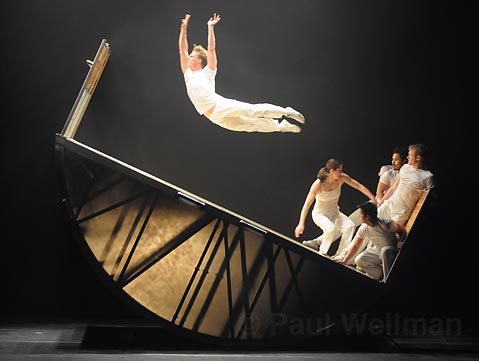 If you're looking for the most sophisticated, artful contemporary dance out there, Diavolo is not where you'll find it. Even Artistic Director Jacques Heim volunteers that his is not the best choreography out there. What he creates, and what draws crowds, is captivating, innovative, exciting theater.
Diavolo's performers hurl themselves through space, leap and lunge across the stage, flip and hang and swing from whatever they can get their hands on. The motivation for their movement is often unclear; that's really not the point. Heim's goal is to create an interesting architectural space and charge it with dynamism, and he succeeds again and again. Every structure he uses-whether it's a simple doorframe or a series of shifting pyramids-is clean and appealing in its own right, and each becomes a frame for movement, drawing and directing the eye through space, giving substance and meaning to the performers' physicality.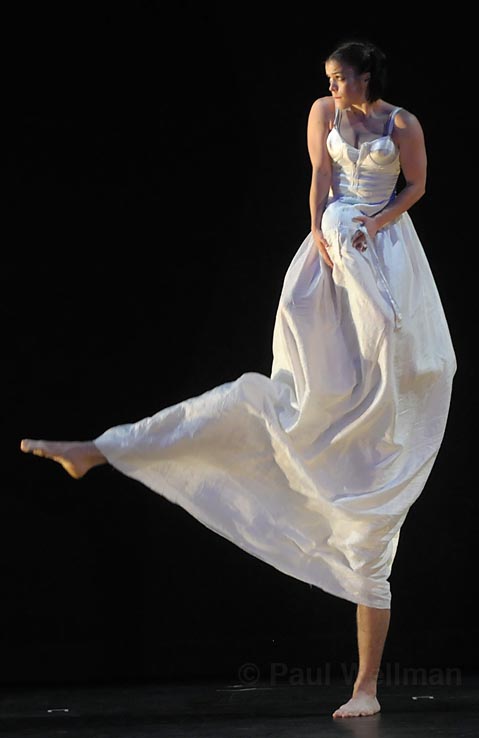 And boy, are they physical. The 11 performers in this show are high-level athletes who can sustain themselves at full pitch all evening. The trust and teamwork between them is totally apparent, and the stakes are high-in some cases, carelessness could be devastating. They use grunts, claps, and shouts to communicate to one another: jump now, and I'll catch you; move now, or you'll get squashed.
Diavolo's dances are always about theme and variation, and in their variations they exhaust the options, pushing the limits of what's possible with a given structure. In "Trajectoire," it's a giant half-cylinder. They stand on top and rock it gently, then harder, until it pitches like a ship on a stormy sea. They roll uphill along its sloping planks, then downhill from its deck to the stage floor. They clamber underneath its hull on the upswing, flirting with disaster. Those onboard use its momentum to launch themselves into flight.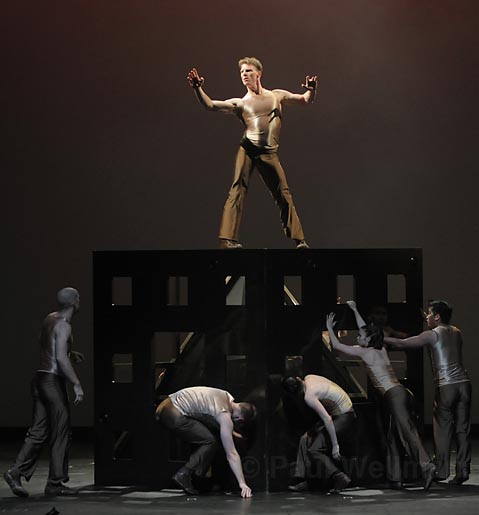 In "D2R-A," a wooden board with a series of metal pipes protruding from it is set at a steep angle. The dancers in cargo pants and drab-colored T-shirts like boot-camp initiates clamber up this hostile obstacle course at an increasing speed, and descend through its spikes like human pin balls, bouncing, rolling, and ricocheting past one another.
Ultimately, Diavolo's is a choreography of architecture as much as of bodies, and Heim becomes a sort of magician, making forms levitate, slide, spin, and multiply. The audience is left in an Escher-like fantasy world, where figures disappear here and reappear there, bodies seem to stretch to five times their length, and sometimes, it's hard to tell up from down.