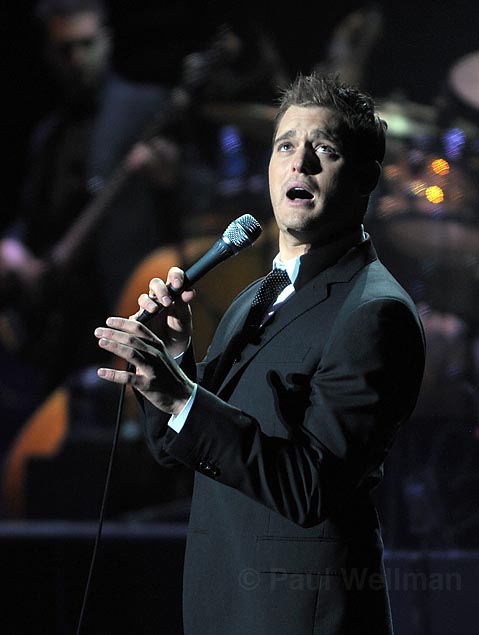 This was the first of two well-attended nights at the Bowl for Michael Buble, a Canadian singer of pop standards who has taken an early lead in the race to become the next generation's Frank Sinatra. Apart from the outward concessions to tradition-the dark suit with a white shirt and dark tie, microphone stand, and 14-piece big band-Buble remains very much his own man, choosing his materially freely from in and outside the Great American Songbook. From Lerner and Loewe to Leiber and Stoller and beyond, Buble has a great sense of what works for his voice and his audience. If there is any point at which his taste falters, it's on his originals, which have a hard time holding the spotlight in the company they keep.
Opening for Buble was the easily forgettable Natural Seven, a hip-hop singing group out of New York. Dressed in all white and human beatboxing for all they were worth, the group appeared again as backup singers on one of Buble's final numbers. Their ersatz rapping did little to involve the crowd, which was clearly biding its time for the main attraction.
The main set was, as is usual for Buble, an amalgam of great singing, lusty patter, and Vegas-style glitz. After an introduction in which he teased Santa Barbarans for being "slack-jawed hippies," the singer settled down to his task, taking his time with "Call Me Irresponsible" and "Fever." Buble used an interesting setup, which involves a fairly steep ramp that takes up most of the stage. With his band perched on platforms within this giant slide, Buble was free to approach it like a kind of half-pipe. When sitting on his stool, he propped the round base of his big microphone stand on the diagonal behind him, rotating it to give himself different angles to sing on. While this unusual arrangement might have been distracting at first, Buble made such graceful use of it that by the end of the night it seemed downright normal.
With a cool fog rolling in and this great singer crooning love songs, the audience at the Bowl moved in a little closer to one another for warmth. Thus intimacy, the object of all this beautiful music, was achieved again, in another triumph for Michael Buble.