Arts & Entertainment
Camerata Pacifica's Season Finale and Tour
At the Santa Barbara Museum of Natural History, Friday, May 23.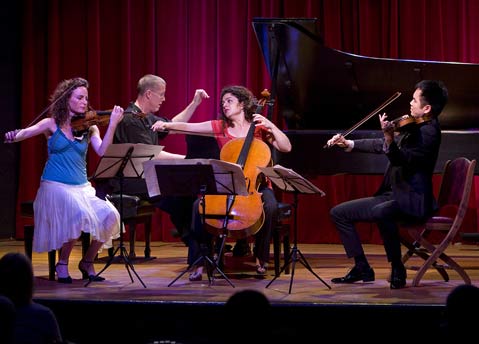 When Warren Jones, Catherine Leonard, Richard O'Neill, and Ani Aznavoorian finished Camerata Pacifica's final concert of the season at the Museum of Natural History on Friday night, they hugged and grinned as if they had won the chamber music world series. In a way, they had-Camerata Pacifica began the season with a brand new staff, the sudden loss of their Santa Barbara concert venue, and a daunting schedule in front of them. They finished the year sounding better than ever, having completed a stunning season in Southern California and a wildly successful tour of Washington, D.C., Ireland, and England. Shawn O'Docharty, the executive director, summed up the mood well: "We've finally arrived. We began the season as a regional chamber group, and now we've succeeded internationally. Everybody is playing so well together-there's a new level of confidence and understanding among them. They don't have to look at each other for a cue; they just know."
O'Docharty is right. Friday night, the group began with Mozart's Duo for Violin and Viola in B-flat Major, a sly, clever piece Mozart wrote in the style of Michael Haydn (Franz Josef's brother) to help out a friend and fool his old boss, Prince-Archbishop Colloredo of Salzburg. The result of Mozart's attempt to imitate his old-fashioned friend is that his characteristic brilliance shines through at unexpected moments-he's daring us to unmask him. On Friday night, violinist Leonard and violist O'Neill made this intriguing work sing and soar. In the third movement, a theme and variations marked andante grazioso, the spark of genius came through especially clearly, with Leonard's clear, brilliant sound contrasting nicely with O'Neill's rich, textured notes. The Prince-Archbishop might have been fooled into thinking this work was by Michael Haydn, but Mozart's hand was visible enough here.
The audience responded warmly to this stunning opener, and Adrian Spence, the group's artistic director, welcomed us just as warmly. "Some of you in the back," he said, indicating a remarkable number of college students in the auditorium's balcony, "may not know when you're supposed to clap. So here's the trick-wait for someone else to do it first. Or maybe not." He then went on to talk about the raucous concert atmosphere of the 18th century giving way to the reverent performances of the 19th, primarily due to Beethoven's insistence on silence and the more staid behavior of the newly formed bourgeois audience. This impromptu-and entirely accurate-lesson in music history made everyone feel better, both more relaxed and more attentive. Spence's ability to connect with audiences (along with their interesting, stellar performances, of course) has made this group easy to love, despite their having to move all over Santa Barbara this season.
But this audience hardly needed a speech to get their attention. The next work, Grieg's Sonata for Cello and Piano in A Minor, Op. 36, engaged them from the first note. The work began with easy, consonant intervals-fifths and sixths-swelling up from Aznavoorian's cello as Jones thundered along on the piano in the background, then switched around entirely. The piano took its turn at the melody, while a complex contrapuntal line emerged from the cello. A serene second movement revealed Aznavoorian's extraordinary ability to shape a single note in fascinating ways, while the rousing allegro finale brought the audience to its feet.
Even more was to come. Jones introduced the final work of the evening, Schumann's Piano Quartet in E-flat Major, Op. 47, with clever and telling anecdotes from Schumann's life ("fun Schumann facts," as he called them), and then the group began the adagio introduction of the first movement. The group's intense self-knowledge became clearer and clearer as each instrument entered, seamlessly exchanging lines and roles as the allegro development continued. The second movement, a startling scherzo, rollicked along with good humor and a lively spirit, while the third movement lived up to its andante cantabile name, strolling and singing.
Still, the fourth movement stopped the show as the group raced to end the concert, and with it, the season. Everything flowed easily; every note was clear; every entrance was a perfect handoff from one instrument to the other. When the final note sounded, the performers looked at each other, suddenly silent and still. The whole room hung in suspense, then broke out in uproarious applause and the grinning and hugging began. Congratulations to Camerata Pacifica on a magnificent season, a grand tour, and an even grander finale.