Living
The Egyptian Riviera?
A Little Bit of Santa Barbara - In Cairo
Downtown Santa Barbara has certain architectural rules new developments must follow, mostly aimed at maintaining Santa Barbara's particular look. Red tile roofs and faux adobe abound. but there's one type of building our city conspicuously lacks: pyramids. Egypt, on the other hand, is quite justly famous for its pyramids, but until now has had very few adobe and red tile buildings.
That's about to change. Emaar Misr for Development, an offshoot of United Arab Emirates company Emaar Properties, has taken on a new project in Cairo. An almost entirely self-sufficient community, the Cairo Heights development will be 885 acres of residential neighborhoods, luxury apartments, and shopping. The development will also include a fully-functional hospital and health center, hotels, and a school.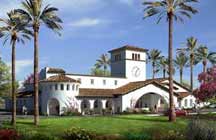 Normal so far. But the twist is that the entire development is based on Santa Barbara's unique aesthetic, complete with a building that looks very much like our own Courthouse, right down to the clock tower.
Mohamed Ali Alabbar, Chairman of Emaar Properties, is quoted in an Emaar press release as hoping that the new development will "seamlessly meld with Cairo's rich heritage." This seems unlikely, somehow. The press release goes on to say that the development will "contrast in style and outlook to anything the capital has seen," and that seems closer to the mark.
Despite Emaar's seeming confusion over how well the Cairo Heights project will fit into Cairo's architectural style, the development is under way and is projected to be completed in 2010. Emaar's website, which is conveniently in English, offers full details on the purchase of their properties, although units in the Cairo Heights development have not yet been put up for sale. During 2009, though, any Santa Barbarans interested in purchasing a literal home away from home should get in touch, as Emaar expects these houses to go fast due to Cairo Heights' desirable location and amenities.
Despite the fact that Emaar has not yet released information on how the new development will be priced, it's possible to estimate based on some of their other properties. A two-bedroom in Dubai's marina district is sold for approximately $1.5 million. Cairo Heights will probably be similarly exclusive, as the development "is expected" – presumably by Emaar Properties – "to become a magnet for the capital's trendsetters."
Santa Barbara was already one of the least affordable places in the nation to live; now, it seems, our city has the opportunity to become internationally overpriced. Perhaps we should build some cost-effective pyramids.