Theater
Joy Mixed with Sorrow
Old Wicked Songs, presented by Ensemble Theatre Company. At the Alhecama Theatre, Friday, May 30. Shows through June 22.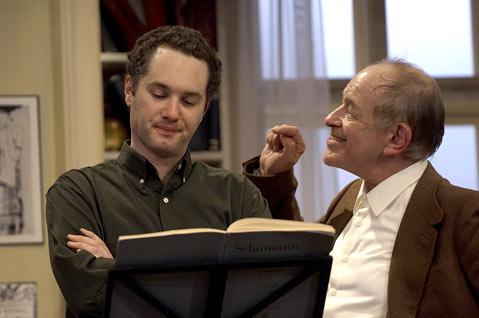 "If Vienna were a piano," an Austrian music professor tells his American student in Old Wicked Songs, "World War II would be a delicate shawl draped over the whole thing." This March, exactly 70 years after Hitler invaded Austria, Jon Marans's play exploring the implications of the Holocaust opened in Vienna under the direction of Ensemble Theatre's Jonathan Fox. Last weekend, the play came home to Santa Barbara.
Old Wicked Songs explores the relationship between Stephen Hoffman (Denis Butkus), an arrogant 25-year-old piano prodigy who has lost his love of music, and Josef Mashkan (Kenneth Tigar), the man charged with helping Hoffman regain his passion. At first, their exchanges are combative; the old professor wants his student to feel the music deeply, and his charge is determined to resist. Beneath the surface of their clashes runs a deeper tension. Both characters are Jewish-a fact they hide from one another for some time-and the play is set in 1986, when Austria is about to elect an ex-Nazi intelligence officer as its president.
Mashkan's music lessons center around Dichterliebe, a song cycle composed by Robert Schumann in 1840 to the words of German romantic poet Heinrich Heine. The Dichterliebe toes the line between romantic nostalgia and bitter irony, and the professor encourages his young student to find both the joy and the sorrow hidden in its message.
"I bear no grudge, though it may break my heart," Mashkan translates, and at first the words mean little to Hoffman, who sees himself as a brilliant soloist and resists his teacher's insistence that he learn to sing and to play as an accompanist for voice. But slowly, the beauty and the sadness of the Dichterliebe begin to influence the young musician.
A visit to the Dachau concentration camp proves a turning point, and Hoffman returns to Vienna having discovered a rage he did not know he possessed, as well as a passion deeper than he had known before.
As Hoffman, Butkus covers the young man's range of emotional states, from guarded defiance to righteous anger and finally to an unfolding tenderness. Tigar's Professor Mashkan, the concentration camp survivor, is utterly beguiling in his passionate embrace of life and in his despair.
Ultimately, the old professor suggests, great art requires an intimacy with sorrow, and Hoffman regains his greatness only by going deep into the pain of Austria's history. Mashkan's lesson for his young student is, of course, the playwright's message to us all. Knowing that this production was performed for Viennese audiences just weeks ago gives that message even greater poignancy.