Business
Electricians Sue Granada Theater Construction Contractors
Union Alleges Workers Got No Overtime Pay, No Rest Breaks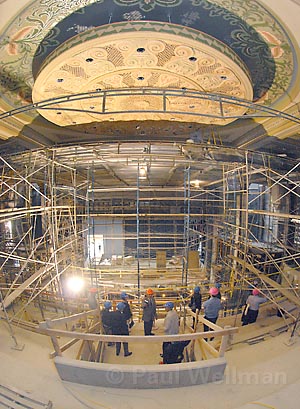 Two large Santa Barbara based contractors, ACS Construction and Melchiori Construction, have been accused of violating California Labor Codes in a class action lawsuit. A couple of former employees are claiming that they and their fellow workers were treated unfairly, underpaid, and not given the correct tools to work with, among other problems, during the reconstruction of the Granada Theater, a $50 million project completed just in time for the long-anticipated arts venue's grand re-opening in March. The workers are being joined in the lawsuit not only by their union, but by contractors associations concerned about unfair competition.
Judge Denise de Bellefeuille will be overseeing this case at Santa Barbara County Superior Court. The two main plaintiffs are previous ACS Construction employees Shane Roberts and Troy Turano. Additional plaintiffs are organizations representing union electricians including the Electrical Contractors Association, Ventura Division; Santa Barbara County Electrical Workers Labor Management Cooperation Committee; California Central Coast Chapter of the National Electrical Contractor's Association; and Ventura County Electrical Joint Apprenticeship Training Committee.
Melchiori was the general contractor for the Granada Theater restoration, and ACS the subcontractor to Melchiori. According to the plaintiffs, certified payroll records were falsified to disguise the facts that ACS failed to pay wages on time, and that when the company did pay, it did not pay the correct wage rate. Employees were not paid for overtime, according to the suit: The California Labor Code specifies that work beyond forty hours a week or eight hours a day must be paid at one-and-a half times the regular hourly rate. The contractors failed to provide meal and rest periods, the suit alleges, and they also failed at times to provide the correct tools as required by law. Nor did the defendants pay contributions to organizations that are funded by the hours that union members work, according to the suit.
California Labor Code specifies that a half-hour meal period must be given during the first five hours worked; and again after ten hours. Workers must take two 10-minute rest periods within an eight-hour work day, with another 10 minutes again after ten hours. If an employer does not comply with these codes, they must pay one additional hour of pay per violation.
The two main plaintiffs, Roberts and Turano, who detailed ACS's failure to follow the labor laws, "seek restitution, penalties, an equitable accounting, an injunction, attorney's fees, and costs of suit," the court filing reads. Not only do these individuals and supporting organizations want compensation, but they want to make sure that Melchiori and ACS will not commit these alleged violations again. "Injunctive relief is necessary and appropriate to prevent Defendants from repeating their wrongful business practices:" wrote the attorney for the plaintiffs, Ellyn Moscowitz of Oakland, California.
In an interview with Pacific Coast Business Times, the president and chief operating officer of Melchiori Construction, Mark Melchiori, was quoted as claiming that the suit is only an issue with ACS, and that his company, as the general contractor, is not implicated.
However, according to the court filing, Melchiori entered a contract with ACS, and "knew or should have known" that the contract did not provide sufficient funds to allow compliance with labor laws.