Sports
Homers at Home and in Havana
The Santa Barbara Foresters Enter 18th Baseball Season, Plan for Cuban Adventure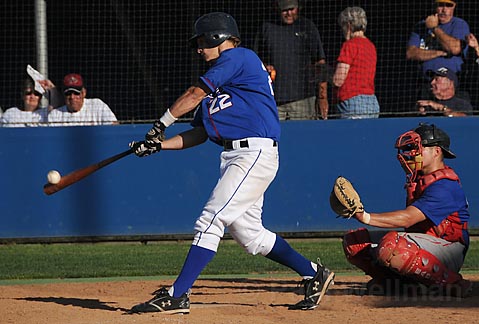 Behind the backstop at Caesar Uyesaka Stadium is a sign that declares: "Peace. Love. Baseball. It's a Santa Barbara Thing." The message was posted by the Santa Barbara Foresters, an amateur team that professes its love of baseball every summer at the UCSB diamond. Meanwhile, the sounds of balls thumping into leather and getting whacked by wooden bats could be deemed peaceful in their ritualistic rhythms.
The 'Sters, who opened their 18th consecutive season last weekend, have become a source of community pride. They have won the championship of the California Collegiate League for 14 years running. Their won-lost records over the last five seasons are: 48-10, 50-11, 51-12, 43-14, and 53-10. It's almost a foregone conclusion that they will qualify for the National Baseball Congress World Series at Wichita, Kansas. They were the NBC champions in 2006. Trying to repeat last August, an early defeat in the double-elimination tournament put them in a hole, but they battled back to finish in the top six-outlasting 36 of the 42 contending teams.
Santa Barbara was NBC runner-up in 2005, a season that was special for another reason. The Foresters went on a road trip to Cuba, sweeping three games against club teams and the Cuban junior national team. That made an impression on their hosts. In April, the Foresters received an invitation to return to Havana. This time, they will play Cuba's national team, the top amateur team in the world, favored to win its fourth gold medal in five Olympic appearances this summer. The historic three-game series will take place June 21-23 at the 55,000-seat Estadio Latinoamericana.
Why historic? The last time a U.S. baseball team faced Cuba in Havana, it was the Baltimore Orioles, who won 3-2 in extra innings on March 28, 1999. Cuba returned the favor with a 10-6 victory at Baltimore two months later.
"I hope we sweep Cuba and Santa Barbara gets an at-large bid to the Olympics," joked Pat Burns, the Foresters' general manager. Bill Pintard, returning for his 14th season as field manager, looks to the series with some apprehension. "They should spot us 10 runs a game," he said.
Pintard intends to beef up the Foresters' pitching staff against the heavy-hitting Cubans, adding a pair of fourth-round major league draft picks-lefthanders Anthony Capra (Wichita State) and Josh Romanski (University of San Diego)-among others, to the roster. The club will be split up into an "A" team for the trip to the island and a "B" team that is scheduled to play the Santa Maria Indians that weekend.
Right now, the Foresters are in a state of flux, with some surefire starters in town and some temporary fill-ins while they await the arrival of college players. Four UCSB Gauchos-catcher Chris McMurray, first baseman Eric Oliver, and pitchers Mike Ford and Clayton Edwards-will not be eligible until the conclusion of the school year. That's business as usual, Burns said. "Last year, I printed 17 different rosters during the season."
Several returning members of the club were chosen in last week's major league draft. Two of them already decided to sign pro contracts-pitcher Mike Kenney with the Padres and slugging outfielder Devin Shepherd with the Cardinals. They hope eventually to add their names to the list of 20 Foresters who made it to the bigs, including Ryan Spilborghs, Ryan Church, and Morgan Ensberg.
Left-handed pitcher Chris Joyce, the Dos Pueblos High standout who went 5-1 with a 1.34 era for the club last summer, was drafted in the 10th round by the Dodgers. He does not seem inclined to turn in his Foresters uniform right away. "Ever since I heard they're going to Cuba, I can't stop thinking about it," he said last weekend. "It's a once-in-a-lifetime thing." Joyce could resist signing with the Dodgers this year-the deadline is August 15-and count on being drafted more highly and more lucratively in the future. He made a commitment to attend UCSB if he opts to play Division I college baseball, but he could choose to go to a community college instead.
McMurray is one of seven UCSB players who were selected in the draft; Cincinnati took him in the 18th round. Four hurlers signed by the Foresters, including Crosby Slaught, a Santa Barbara High graduate at UC Irvine, were playing in the NCAA regionals last weekend.
The Foresters got off to a 3-0 start at home with a makeshift lineup. They defeated the newest member of their league-the Major League Baseball-sponsored Urban Youth Academy of Compton-by a 10-0 score; and they swept a Sunday double-header over the Oceanside Waves, winning the opener 9-8 in 10 innings and taking the nightcap 4-3.
The series marked the return of aggressive base-running to the Foresters' repertoire. "Last year's team broke the record for home runs," Pintard noted. "This year we'll rely on speed and situational hitting." In their first three games, the Foresters swiped 18 bases. Erik Castro stole home with two out in the bottom of the 10th for the winning run of Sunday's opener.
"What a gutsy effort by our guys," Pintard said. "We were manufacturing runs like crazy. We came back three times [including a three-run rally in the bottom of the ninth to send the game into extra innings]." Creating havoc on the basepaths were Vinnie St. John of USC, Michael Brady of Cal, and DeAndre Miller, a member of Santa Barbara's 2006 national championship team. Miller is hoping to land another professional contract after having been released by the Angels last year.
Brady had a strong start as shortstop for the Foresters. Santa Ynez High outfielder Chase Yost homered in his debut, making the most of his chance before several outfielders from Texas join the club. Carson Andrew of Jacksonville, Florida, pitched a complete seven-inning game in the nightcap Sunday.
The Foresters are on the road against the Monterey Bay Sox this weekend, June 13-15. All their games are broadcast on 1340 AM radio, as well as on a Webcast at www.sbforesters.org that is sponsored by independent.com. The Web site also features the schedule, results, promotions, and history.
The next home games at UCSB are Tuesday, June 17 (Conejo Oaks) and Wednesday, June 18 (Denver Cougars). The Santa Maria Indians will visit on June 21-22. Weekday and Saturday games generally begin at 5 p.m., and the first pitch Sunday is at 1 p.m. The Foresters will also play their traditional July Fourth game at Pershing Park.
A family atmosphere prevails at Forester games. There are contests (races and hula hoops) between innings for the kids. Every foul ball into the parking lot incites a mini-stampede-whoever retrieves the ball can turn it in for a free ice cream, a peaceful trade for a loving club that does not want to part with too many baseballs.
4•1•1
For more info, see www.sbforesters.org.