Film & TV
Kung Fu Panda
The voices of Jack Black, Dustin Hoffman, and Angelina Jolie star in an animated film written by Jonathan Aibel and Glenn Berger and directed by Mark Osborne and John Stevenson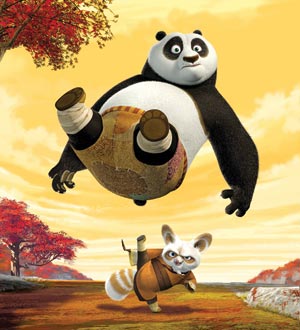 Subtle humor is likely the last thing you'd expect from a film titled Kung Fu Panda, and that unlikeliness grows when you learn that Jack Black provides the voice for the title character. Well, maybe it's not Tom Stoppard, but this latest animated extravaganza from DreamWorks (the people who brought you Shrek and Bee Movie) is equal parts sly jokes and slapstick thunks.
Case in point: During most of the movie, nobody even mentions the obviously bizarre fact that our porcine panda hero named Po is the "son" of a rather obliviously chatty goose. At one specific spot in the film, however, Po's pop tells him in a dire voice, "There's something I've been meaning to tell you about our family for a long time." The audience laughs, expecting overdue clarification. Instead, Dad breathlessly confesses a trade secret about the broth served from the family noodle stand. Even better, this script sleight of hand becomes the thematic glue that defines Panda. The jokes enable the film to sneak up on Hollywood cliches served with a deft twist of martial arts film philosophizing. Hai-Yah!
But don't take my word for it; take the family's. Panda's good on almost every level. Besides its clever script and engaging storyline concerning the mishap-strewn martial arts education of a dorky bear, the film offers gorgeous computer animation more concerned with design and palette than realism. Opening with a stylized dream sequence, Panda becomes a lucid comic narrative without sacrificing its cartoon awes. From the Shaolin-style palace to the Star Wars-like dungeon where villain Tai Lung is held, the settings are rich and strange. Even the credits are gorgeous; one long pan over funny tableaus not seen in the film, like pretty outtakes.
To sum it all up, Panda is funny. With anthropomorphic talking animals voiced by the likes of Dustin Hoffman and Seth Rogen, it has an elevating moral, gratuitous dim sum, and tons of kung fu fighting, which, as we all know, is a little bit frightening when it's paired with perfect timing.