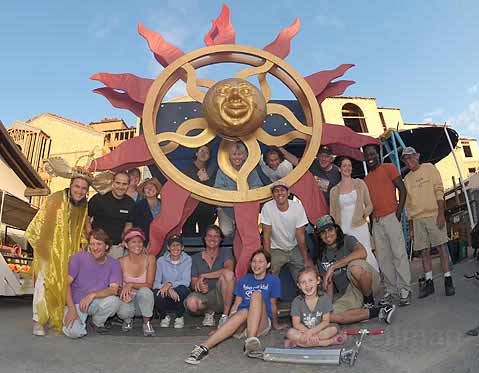 For most people, Summer Solstice means a big funny parade followed by an afternoon in the park. Or, more specifically, a day of sweaty festivities beginning noon Saturday, followed by a recuperating day of ear-hangovers from countless drum troupes, until, after the paint wears off your face, a guess-what-I-saw conversation at the office water cooler Monday morning. And that is good.
For Solstice participants, however, the party lasts six weeks. That other stuff is over in a flash. For these people, it's the workshop that matters, and, for them, the rewards are hours spent crafting recycled material into risible contraptions, nursing blisters and sunburns, living for the rush of camaraderie apparently one can only achieve using big power tools and inhaling papier-m•che glue. For these people, like inhabitants of some Anti-Earth, the preparation is everything and the parade launch marks the beginning of the end.
These are the float wonks. I know, because for two decades, I have been a Solstice widower, abandoned annually by wife and son who, though normal citizens with responsible occupations, fall willingly into this vortex. And that is called obsession.
It began innocently enough, the year I walked my six-year-old son down to watch his mother prance up State Street in flamboyant costuming, assuming that would spell the end of it for any son of mine. The following year, when he designed his own circus train float and drafted me, his grandfather, his friends, and most of their parents into service, I knew a kind of monster had been born. This year, he will fly in from his new home on the East Coast so as not to miss the parade.
He's not alone. Paul Forster admits to being a parade nerd, too. Like most people, the sometimes-controversial float-maker and Santa Barbara High School English teacher began with casual use. "It was back in the days when I was in the performance/band/concept troupe the Stylin' Bros," he recalled, chronicling a 23-year habit-the parade is 34 this year, by the way-when peers introduced him to the high. "They said, 'You guys would be perfect for it,' so we went down to the parade and we just got in it without even trying the workshop-pretending we were trying to get a tan on a foggy day."
"Of course, it was different back then," he explained. "They didn't have all the nice tools and materials and people to help you. You were on your own. On the other hand, nobody gave a flying fuck what you did, either. Nobody told you, 'Oh it's too wide or too big, or it might offend somebody.'"
The next year, Forster built a Flintstones version of a tourist bus. He was hooked. "Of course, it was different back then," he explained. "They didn't have all the nice tools and materials and people to help you. You were on your own. On the other hand, nobody gave a flying fuck what you did, either. Nobody told you, 'Oh it's too wide or too big, or it might offend somebody.'"
Forster's float this year is an homage to gophers. He is sanguine about the parade, despite relative bureaucratic control. "I figure the parade is my community service. I love being in it and entertaining people. If I bring a smile to somebody, I've done something good for the community."
The involvement of Solstice's General Director Claudia Bratton goes back 20-something years, too. They've differed, but Bratton shares Forster's core values. "I love the workshop," she said one recent afternoon while hot-gluing seashells to sashes for seashore mermaid lasses, adding ruefully, "Unfortunately, I hardly ever get to work in it."
She'll acknowledge that the workshop days of yore were looser. In the beginning, a lot of the stuff just grew out of founder Michael Gonzales's Mime Caravan. People fueled on boho values and thrift-store purchases produced ensembles during two-day marathon parties just before parade launch. "We still have people working all night before," she said, although noting that nowadays the Solstice pays more for insurance than the entire budget spent 10 years ago.
Pali X, the Hungarian-born artist who does the big parachute-cloth finale floats, claims he could live without the workshop, yet for 18 years now, he's been first to arrive. "I am here everyday. But I like better showing my work. Although I guess the workshop is good. Joyful but painful. My neck hurts, yeah. My butt hurts, yeah. It's a real pain in the neck and the butt," he laughed. He's the last one to leave the workshop each year, too, and his craft reflects utter dedication.
For some people, it's a job. Artistic Director Riccardo Morrison's first parade experience was in the mid 1980s (and down Cabrillo Boulevard) as a dancer. "Maybe we lost some of the spontaneity of the earlier days, but it's a lot safer here now," he said. "What I like about the workshop is that the magic still happens. Suddenly somebody shows up with that thing you need. I would say we can build anything here."
Dismayingly, the workshop's rife with potential new addicts getting their first taste. "That's a wonderful whatever," says a woman named Gloria walking by two 50-year-old neophytes building a Ship of Clowns. One is Scott Gordon, president of Haagen Printing, here since 1946. Longtime supporters of the parade-providing free posters and stickers-Gordon somehow got suckered into decorating then riding a float designed by former county arts commissioner Patrick Davis. One recent Monday, he was getting a papier-m•che seminar from my spouse, Diane Arnold. I could see he was gone after moments spent covering chicken wire and magically transforming it. "It's sticky," said the otherwise articulate executive. "It's gooey fun."
Others admit openly their dependence. Ann Chevrefils has blatant Styrofoam issues-she designed The Independent's Trixie surrogate head from last year, among other glories. "I don't enjoy jumping around in front of people, being out there during the parade. I like to hide inside the float. But I love doing this," she said while painting a delicate backdrop for one of the solar-themed floats. Her connection is shameless: "If I could find a job where I'd be continually producing things for parades all year long? That would be a good life."
4•1•1
Santa Barbara's annual Summer Solstice Parade hits State Street this Saturday, June 21, at noon and ends in Alameda Park. There is also a party at the park on Friday night, June 20. See solsticeparade.com.