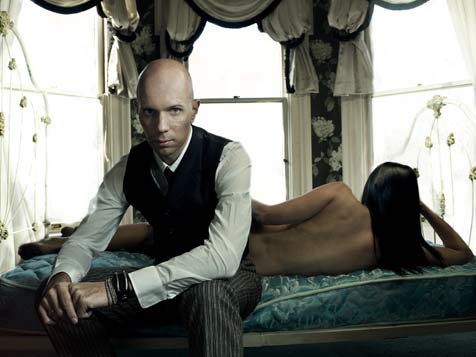 BACK TO THE BEACH: Last year, twin brothers Joshua and Jeremy Pemberton, the up-and-coming masterminds behind Twiin Productions (twiinproductions.com), attempted the near impossible: throwing a one-off festival the likes of which Santa Barbara rarely sees while the Bowl season was still going strong. The result: a one-day event that took over West Beach (306 W. Cabrillo Blvd.) and played host to a mish-mash of local talents (Ona, Iration, Shades of Day) and rock, jam, and reggae favorites (ALO, Sugarcult, The Penfifteen Club). While attendance was not all it could have been-as tends to happen when crummy weather rears its ugly head-the event was enough to whet the collective palate of the brothers Pemberton.
Since last September, the duo has been working around the clock to bring more big names to little clubs throughout S.B. They've also been hard at work to make the second annual West Beach Music Festival (westbeachfestival.com) bigger, better, and more ambitious than even we in the know could have imagined.
Stretching three days and 13.5 acres, this year's installment (which will take place Friday, Saturday, and Sunday, September 12, 13, and 14) has already blown its predecessor out of the water-and it's still nearly three months away. Boasting two stages, a stretch of VIP caba±as, and a mid-venue electronica-filled mini-village (e.g., The DoLaB's Coachella setup), it seems as though the guys have mastered the art of the "go-big-or-go-home" business plan. And the talent? Well, last year's mixing of Santa Barbara-based notables and nationally touring musicians will be reprised on a grand scale. Headliners include Ziggy Marley (ziggymarley.com), Jason Mraz (jasonmraz.com), Natasha Bedingfield (natashabedingfield.com), Big Head Todd and the Monster (bigheadtodd.com), and Jackie Greene (bigheadtodd.com), with more soon to be announced. Likewise, the festival's ever-growing list of acts continues to add a bevy of familiar faces, including Joe's Band (joesband.com), Them Terribles (myspace.com/themterribles), Cornerstone (myspace.com/cornerstoneroots), and Matthew McAvene (matthewmcavene.com). Keep in mind that reduced-price advance three-day passes will only be on sale through Monday, July 1. Visit westbeachfestival.com to purchase tickets.
And as for what the twins are up to until September's musical extravaganza hits, well, they're hard at work on a slew of other shows, including this week's can't-miss big band in a little space event: ASHES dIVIDE at Velvet Jones (423 State St.) on Wednesday, June 25. This three-piece may just be the craziest super group you've never heard of, with A Perfect Circle guitarist Billy Howerdel manning the vox, guitar, bass, and keyboards, former Vandals, Nine Inch Nails, Devo, and Guns N' Roses contributor Josh Freese on the drums, and Devo Keenan playing cello. (And yes, that's "Keenan" as in the offspring of Tool and APC frontman Maynard James Keenan.) Based on the band's debut record, 2008's Keep Telling Myself It's Alright, the show is going to be chock-full of crunching guitars, ambient distortion, and hauntingly echo-heavy vocals la 30 Seconds to Mars. Following the S.B. date, ASHES dIVIDE will do the arena rock thing as part of Linkin Park's now-annual Projekt Revolution Tour alongside such mega acts as Chris Cornell, The Bravery, and Atreyu. Oh, and did we mention that lil' Devo is only 12 years old? Like father, like son.
OFF AND RUNNING: One week into The Indy's call for submissions for our Locals Only Annual Santa Barbara Music Issue, and things seems to be rolling along semi-smoothly. By Monday morning, we'd already collected 10 band bios, pics, and MP3s-with even more expressing interest. But props must be given to the eager beavers of Soul City Survivors (soulcitysurvivors.com), who managed to get their info to us less than four hours after last week's issue hit stands. Way to go, guys! And for all of you still interested in tossing your name in, visit independent.com/band_submission.