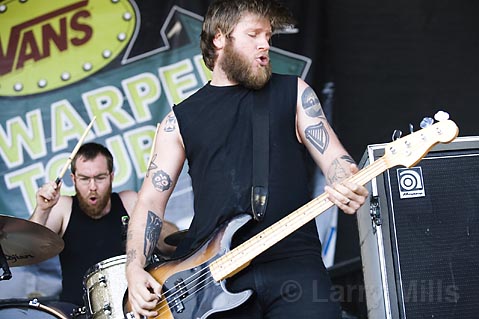 Here's something you don't often hear: I saw Against Me! on the same bill as Katy Perry. It's weird when a socio-political punk band shares performance space with the newest pop culture "it" girl. But such is the modern-day Warped Tour, the longest-running annual tour in North American history.
My date for the day was a 10-year Warped veteran, so we already felt somewhat ahead of the game. We started with The Action Design, a dance-friendly pop-rock outfit helmed by former Tsunami Bomb frontwoman Agent M. She was all spunk and smiles as the four-piece drove home songs from Never Say, the band's first full-length (due out in September). Then it was off to Anberlin, where the Florida boys play a varied set of old and new songs. They closed with "Dismantle. Repair." off Cities, which really got the crowd jumping.
We staked out spots for those other Florida boys, Against Me!, who, as usual, didn't disappoint. They mostly played from 2007's New Wave, including opener "Stop!," which had been commissioned as part of this year's Rock the Vote campaign. Before their mid-afternoon set, bassist Andrew Seward and drummer Warren Oakes expressed excitement-and some nervousness-about the upcoming election, commenting that they are from the reliably blue Alachua County, or the "oasis of sanity in Florida," according to Seward.
Jeffree Star-the hot-pink haired, androgynous MySpace star-is virtually impossible to ignore, and even though his slick, synth songs ("So Fierce," "Addicted to You") didn't go over too well with the more hard-core Warped folks, we couldn't walk away. It might have been because he mooned us in his pink booty shorts, but no matter; we stayed until the end. We then headed over to catch fellow Santa Barbaran Katy Perry, whose bubble-gum pop held the crowd until "I Kissed a Girl," which sent everyone into a sing-along frenzy. But she showed her cards too early; there was a mass exodus after "Kissed," even though Perry had a handful more songs to go. Oops.
But the day as a whole was certainly not an oops. Despite lacking some of punk's bigger names, Warped delivered-even according to my veteran sidekick.