Visual Arts
New Hires and New Roles at SBMA, the Arts Fund, Westmont, and UCSB
The Fresh Face of Art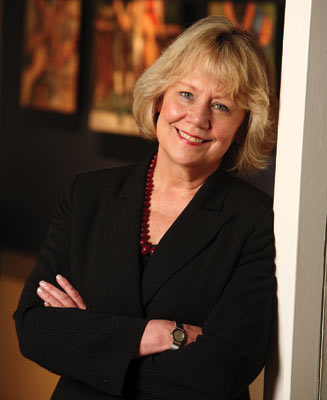 Although the impact remains to be felt, the Santa Barbara arts scene has just undergone a major shift. In the last few months, new directors have been announced at Westmont's Reynolds Gallery (Judy Larson) and the Arts Fund (Nina Dunbar), and UCSB's University Art Museum has hired a new curator (Elyse Gonzales). This influx of talent comes shortly after the arrival of Larry Feinberg as new director of the Santa Barbara Museum of Art, where longtime director of education Jill Feinstein has taken on a new role as director of special projects for the study of art and culture, with her previous role filled by fellow SBMA veteran Patsy Hicks. The significance of these changes is that it is a fertile moment for the arts in Santa Barbara. Each one of these gifted people-many of whom already have national reputations-will be bringing new ideas, contacts, drive, and ambition to the task of making Santa Barbara an international art center for the 21st century.
Judy L. Larson assumes directorship of the Reynolds Gallery along with becoming the first holder of the R. Anthony Askew Chair of Art. Larson has been a museum director before, in Washington, D.C., where she was head of the National Museum of Women in the Arts (NMWA). She follows a much-beloved artist, teacher, and mentor, Tony Askew, who is retiring after 26 years at Westmont, and she comes at a time of significant change for the Reynolds Gallery, which will move to a new building, the Adams Center for the Visual Arts, in 2011. Her arrival signals a big move on Westmont's part toward professionalizing the Reynolds Gallery, and possibly taking it to museum status.
Larson easily blends the roles of cultural historian, art historian, and arts executive, and she tends to take a global and historical view of whatever she is working on. For example, she is justly proud of the work she did at the NMWA, where she was responsible for several important exhibitions, including one of Australian Aboriginal women painters and another on Nordic designers. She also knows her way around more traditional European and American art, and has lots of interesting things to say about the issue of focusing on women.
Larson also has a passion for using education to connect producing artists with collectors, something she will carry over into her role at Westmont, where she plans to cultivate a permanent collection in the new space. She expressed fondness for the gallery's current home, which she described as a "fine arts and crafts bungalow," but the idea of the new building is what really animates her. "It will be a very green design," she said. "There will be art studios on one side, and we are on the side that overlooks the formal gardens." The Adams Center building breaks ground in the fall as part of Westmont's much-discussed expansion, which also includes a new chapel, a new dormitory, and a new science building. Larson sees the Adams Center as imperative to fostering the college's permanent art collection, saying, "We need the climate control and the storage that a professional museum would use."
Over at the Arts Fund, Nina Dunbar is preparing for the organization's 20th anniversary with a celebration of its flagship program, the Individual Artist Awards. Given annually by a distinguished group of artists in specific though ever-changing categories, the Individual Artist Awards have come to be seen as the most coveted mark of recognition that a Santa Barbara artist can receive directly from the arts community. Most distinctively, the award crosses all generic boundaries to embrace everything from digital photography to watercolors to acoustic guitar to poetry to furniture design.
Dunbar comes to Santa Barbara from San Francisco, where she worked as a project manager in public arts. Her experience coordinating civic administrators, elected officials, and artists opens the door toward a future for the Arts Fund as a major player in the ever-controversial and sometimes thrilling Santa Barbara public arts scene. Her decision to begin by finding and potentially bringing back all of the 128 previous winners of the Individual Artist Awards shows a canny understanding of the organization's role in the community and a serious commitment to preserving a great existing conversation's many voices. Dunbar insists that the 20th anniversary of the awards should be more than just a game of "where are they now?" saying, "There will be opportunities to exhibit and perform, and grants to underwrite those opportunities, because we want, insofar as we can, to get these artists together, all of them, and see what happens."
Elyse Gonzales, the new curator at UCSB's University Art Museum, comes from a position at the Institute of Contemporary Art at the University of Pennsylvania. At the Institute of Contemporary Art, Gonzales participated in one of the few university-affiliated spaces in America that focuses entirely on living artists. Her background working with such hip young art stars as the extraordinary draftsperson, colorist, and Henry Darger disciple Amy Cutler and the Flickr phenomenon Zoe Strauss bodes well for the contemporary arts at UCSB's museum.
We look forward to seeing these new faces and to experiencing their visions as they manifest in new spaces, shows, and all kinds of art.