Opinion
Shoot Low, They Might Be Crawling
MOZILO COMING? Angelo Mozilo, kingpin of the notorious Countryside mortgage outfit being sued by the State of California, plans to move into a high-priced home in Santa Barbara, according to word on the street. The Rametto Road manse has been undergoing massive renovation for the past two years and still isn't ready, sources say. It's said to include a huge home theater. Countryside and its chairman, Mozilo, are being sued by Attorney General Jerry Brown for allegedly using misleading advertising and other unfair business practices to trick borrowers into taking on risky home loans they didn't fully understand. He also faces a rash of lawsuits from investors, borrowers, and state regulators. After unloading millions of dollars of stock before the price nosedived, Mozilo apparently has no need to take out a subprime mortgage on the house.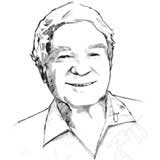 INDIA'S ANSWER: Note to the Santa Barbara News-Press, its newsroom stripped bare: Ever think about sending your copyediting and layout work to India instead of hiring temps? Seems that an Indian company will take over copyediting duties for some stories published in the Orange County Register, and will handle page layout for a community newspaper at the struggling Pulitzer Prize-winning daily. (Maybe some guy in Bangalore will win its next Pulitzer.)
PAT ON THE BACK: Pat McKinley, one of the nicest and most professional people in law enforcement but also tough on crime, is retiring, and I'll miss him. His retirement dinner will be at the Montecito Country Club on July 26.
MARY CHEADLE DIES: Mary, wife of the late Vernon Cheadle, former UCSB chancellor, died Monday in Louisville, Kentucky, where she lived with her son Bill and daughter-in-law Mary. Mary Cheadle was 92. A memorial here will be scheduled sometime in the fall.
NEWS NEWS: On the positive side, it's great to have former News-Press executive editor Jerry Roberts as an Indy columnist and blogger. On the negative, the Ventura County Star is gaining circulation but hurting on the financial side. So it's cutting back its number of pages but says it won't touch local news coverage.
GOLETA COUNCIL'S SHADOW: An outfit called Keepers of the Good Land is "essentially a front for the Goleta Valley Chamber of Commerce, which has become a kind of shadow arm of the Goleta City Council," reports Jim Logan, managing editor of the Goleta Valley Voice, which incidentally is owned by the Santa Barbara News-Press. "If the chamber wants it, the pro-growth majority of Jean Blois, Eric Onnen, and Michael Bennett do their best to provide it," wrote Logan, a Goleta native. Keepers claims to be "a coalition of homeowners and small business owners," Logan said. Residents have opposed proposals by the Bacara resort to build 62 condos at the Haskell's Beach parking lot. The Goleta Valley Chamber and Keepers support the proposals, and Logan points out that the Bacara itself wrote 33 of the 80 pending amendments to the city's General Plan. Keepers has attacked its critics as "bullies," "hoodlums," and "out-of-towners."
ROSEN TO THE RESCUE? Speaking of public agencies doing the bidding of private profiteers, the Goleta Water District is in for a shake-up if retired attorney Bill Rosen is elected. The candidate says he'll make the board adhere to the Safe Water Supplies Ordinance protecting water reserves, and work to provide "the broadest possible access" to district records. "The district consistently delays or denies public access to meeting agendas and materials," said Rosen. Among his backers: GWD boardmember Bert Bertrando and the two Goleta City Council members in the minority, Roger Aceves and Jonny Wallis.
LORE FROM ITALIA: Laura Morrison reports from Rome: "An ad in Italian is everywhere-TV, newspapers, billboards-urging you to change your Internet provider. The English translation is 'change to "wind"': Passa a wind!"
PRICE OF PEACE? What might have been a routine project elsewhere in pro-growth Santa Barbara has become a major brouhaha on Coast Village Road. On July 15, the City Council will hear an appeal from a planning commission okay of a three-story mixed-use building replacing a service station at Olive Mill Road. Charges and countercharges have flown like dive-bombing seagulls. After SaveCoastVillageRoad.com sent out a mailer attacking the project, developer John Price fired off a reply: "Last week, in a desperate move to incite fear among local residents : a handful of opponents sent out a mailing filled with inaccuracies." I hear that the best estimate of the upcoming City Council vote is "very close."
WINE TIME: I know it's not Fiesta time yet, but more than 40 local wineries will be pouring at the Third Annual Old Spanish Days Wine Tasting at the County Courthouse Sunken Gardens on Saturday afternoon, July 12. Elements Restaurant and Catering, located right across the street, is sponsoring the bash, and a portion of the proceeds goes to Fiesta. There'll be a special rare reserve tasting from 2-4 p.m., with the main tasting from 4-7 p.m. Online tickets are at elementsrestaurantandbar.com and oldspanishdays-fiesta.org.