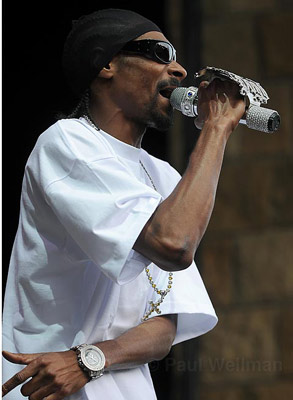 Considering the cross-section of rock, funk, and hip-hop that the Bowl dished out last Thursday night, one might ask, "Just what do '90s punk-reggae rockers 311 have in common with the Doggfather of hip-hop?" The answer: Not much, besides fan bases with a large appetite for drinking, smoking, and getting : well, you know the rest.
Now in its third year, 311's Summer Unity Tour brought with it a truly eclectic smattering of songs young people like. And despite the slightly odd decision to let Snoop carry the middle of the show, the mish-mash seemed to work.
Taking to the stage under a still-shining summer sun, Snoop and his posse-which included a surprisingly rocking and sizable backing band-stole the show from the moment they stepped onstage. To a packed house, the original West Coast gangsta proved that he's still got it, mixing the classic simplicities of "Gin and Juice" and "Who Am I (What's My Name)?" with more complex newer tracks (like "Ups & Downs" and "Sensual Seduction") that both crossed genres and shone with the assistance of Snoop's full-fledged live backup. Now 35-years-young, Snoop's vitality and swagger seem to only have grown with age-something he proved with his most recent single, "Life of da Party." Sadly, the party called it quits before sundown to make way for the night's headliners, in turn causing a number of people to file out before 311 even hit the stage.
For those of us who did stick around, the Nebraska-based funk rockers managed to bring the goods by way of a lengthy set list of hits ("All Mixed Up," "Come Original," "Amber") and old school gems ("Freeze Time," "Prisoner"). That said, at the end of the night it was hard not to wonder how it is that 311, which hit its commercial peak around 1996, is still drawing crowds of this size and ferocity without even releasing a new album. We may never know the answer to that, but it may have something to do with the fact that you really can't go wrong if Snoop Dogg is your hype man.