Living
Water Matters
What Is the Best Kind of Bottle?
Water is such a huge subject, from the state of the planet down to the life of a community with too much or too little. Then for those of us who aren't always thirsty, there are the questions of choice – how much to drink, carried in what, coming from where. We take it for granted because our cities have, for a century or more, supplied us with drinkable water. And in the last few decades, the beverage industry has been very happy to sell it to us in any way possible, the profit margins being what they are.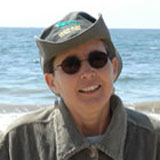 Anyway, for those of us who choose to carry our own container of water around instead of buying the single use toss-away type (uses tons of energy, oil, and even more water to make), what is the best kind of bottle, presenting the least possible harm? This is the minutiae of the water subject, for us fortunate ones to ponder.
The plastic ones are questionable especially when factors like heat and long term use are figured in. There are steel ones out there, there are even leather ones with natural latex linings. A Swiss company makes one that is lightweight aluminum with a water based lining. I like drinking from glass myself, and though it may not be the best in all situations, it's cheap, easily washable, imparts no flavor and when the cap begins to rust, recyclable. You can buy a bottle of something that has a wide mouth, like Honest Tea, and after the tea, honest water.
http://www.pacinst.org/topics/water_and_sustainability/bottled_water/bottled_water_and_energy.html
http://www.thegreenguide.com/doc/101/plastic
http://www.thegoodhuman.com/2008/03/17/choosing-a-safe-reusable-water-bottle/
http://answers.yahoo.com/question/index?qid=20080427065210AAKreJD