Theater
Rubicon Goes Global
Ventura's International Theatre Festival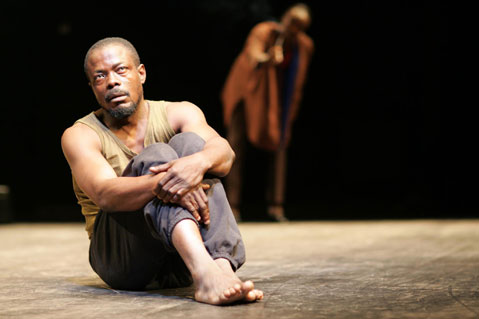 To understand the idealistic vision of the Rubicon International Theatre Festival, you must consider the childhood of its director, Linda Purl. The critically acclaimed actress who conceived and curated the two-week event spent most of her formative years in Japan, where her father worked as a business executive.
Her family was culturally active, and she was exposed to a wide range of theater, from Kabuki and Noh to touring shows from New York and London. It was quite an education for an aspiring performer, and its lessons were not confined to the mechanics of stagecraft.
"I learned there is always another approach, another solution, another way to look at something," she said. "There is always another way of expressing an idea."
The value of multiple perspectives is the bedrock belief behind the ambitious new festival, which will take place Saturday, July 12, through Sunday, July 27, at a variety of locations around Ventura. The event represents a conscious rejection of our nation's fear-based insularity in the post-9/11 world.
"I think there is a lot of fear in the world-fear of people with different beliefs, fear of people from different cultures," said Karyl Lynn Burns, artistic producing director of the Rubicon Theatre Company. "One thing that can eradicate that is the kind of sharing of ideas that takes place in the theater. That sort of personal exchange can help us realize that however different we may be, we are all human and have common feelings and needs."
The festival is an outgrowth of Rubicon's 2004 Samuel Beckett Festival, which featured artists from both Europe and America. Purl vividly remembers a post-show gathering at a local drinking establishment, where she was chatting with Burns and Michael Colgan, then-artistic director of Dublin's famous Gate Theatre.
"He said, 'C'mon, ladies, you should do this every year,'" she recalled.
The idea was not as far-fetched as it seemed. Rubicon's original mission statement mentions an international component, and Purl-the star of some of the company's most memorable productions-cofounded an international festival in Colorado. Having broken ties with that operation, she was ready for another challenge.
The decision was made to start small and grow gradually. So the July 2008 festival became the "preview season," in which some components-including an apprentice program featuring 18 college theater students from five states-will be inaugurated, while others remain on hold. If all goes as planned, the first full festival will take place one year from now and be headquartered at the Ventura County Fairgrounds.
This initial festival is hardly thin, however. With a budget of over $800,000-major funding came from the City of Ventura and Southern California Gas Company-it features four full professional productions and numerous ancillary events, including a late-night cabaret and a Sunday afternoon reading of the poetry of Rumi.
The productions, which will be staged at various Ventura venues, are all small-scale but intriguing. From the Ivory Coast comes Luis Marques's Eye of the Cyclone, a contemporary drama about the long-term psychological damage that occurs when young boys are forced into becoming soldiers. Israeli-American actor Ami Dayan stars in Oren Neeman's Conviction, which looks at religious persecution in Inquisition-era Spain through a contemporary lens.
On a considerably lighter note, former Cirque du Soleil clown and mime artist Julien Cottereau will present the American premiere of his one-man show Imagine-Toi. This wordless program of physical humor, which has played to large, appreciative audiences in France and Australia, is intended for both children and adults.
The most highly anticipated show for Rubicon regulars is First Love. It marks the return of Irish actor Conor Lovett, who performed an evening of Samuel Beckett's work at the 2004 Rubicon Festival and returned two years later to present Conor McPherson's monologue The Good Thief. For the festival, he circles back to Beckett, with a theatrical adaptation of a novella about a desolate man who goes searching for the meaning of life and death and discovers passion in the arms of a prostitute.
Actually, "adaptation" isn't precisely correct. According to director Judy Hegarty Lovett, "We present First Love verbatim as it appears on the page, addressing the audience in the same way the narrator on the page addresses the reader." When the words are this compelling, she reasons, a simple, straightforward approach is best. The staging premiered in Dublin in May; this will be its American premiere.
All of the performances will be in English except Imagine-Toi, which communicates entirely in gestures and sounds. Future festivals will include shows in foreign languages, most likely employing English surtitles.
The "opening ceremony" at the Ventura Theater, which actually occurs halfway through the festival on July 18, features a performance by singer/songwriter Stephen Bishop. In addition, actors from the participating troupes will each recite Shakespeare's famous "To Be or Not To Be" soliloquy in their native tongues.
"Ultimately, we want to have a 'fusion' piece every year, where the actors, director, and crew will all be from different countries," Burns said. "We won't just be bringing pieces from other countries here; we'll also facilitate an exchange among the artists."
4•1•1
Other events include the Ventura-based troupe Teatro de las Americas, performing a work by Venezuelan playwright Gustavo Ott, and a Kabuki lecture/demonstration. Tickets for most shows are $42 to $47, with student and senior discounts available. For a complete schedule, call 667-2900 or go to ritf.org.